AdWeek Focuses on Marijuana Branding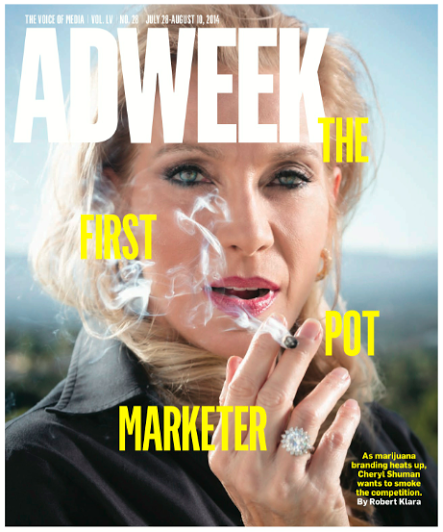 "Who Will Become the Starbucks of Pot?" That's the headline of the latest cover story in AdWeek, the trade magazine of advertising and marketing. The cover itself is a headshot of Beverly Hills Cannabis Club's Cheryl Shuman, describing her as "The First Pot Marketer."
"If you put your head out of that little cannabis closet, you risk arrest and prison," says Shuman, a cancer survivor who was named Marijuana Activist of the Year at the Seattle Hempfest for her work in espousing medicinal use of cannabis in such mainstream media as FOX Business News; CNN's Piers Morgan Live; ABC's The View, 20/20, and Good Morning America; and The Ricki Lake Show and The Katie Couric Show in syndication.
AdWeek caught up with Shuman at the California Heritage Market, a farmer's market for marijuana she helped organize that opened to much fanfare in Los Angeles' Boyle Heights neighborhood, only to be shut down by a judge's order after a couple of weeks in business.
"Growers were coming up to me and asking, 'How do we make ourselves different? Maybe we should come up with a logo and a name,'" Shuman told AdWeek. "The branding of cannabis doesn't exist yet."
That's changing rapidly. AdWeek examined the evolving world of marijuana branding, speaking with reps from Diego Pellicer, a luxury brand of marijuana, Dixie Elixirs, a leading marijuana-infused edibles brans, and Cannabrand, a cannabis focused marketing agency.
Marijuana has been a black market commodity for generations who have grown to understand the basics of the plant, such as its lineage as a sativa (plants prized for their "head high"), indica (more "body stoned"), or a hybrid. But branding has been an inconsistent slap-dash of counter-culture rebellion where varieties of plants called "Acapulco Gold" and "Panama Red" in the 1970s have evolved today into strain names that are mainstream marketing poison, such as "Cat Piss" and "Green Crack".
Olivia Mannix of Cannabrand tells AdWeek that such distasteful marketing will never survive the continued legalization and mainstreaming of the marijuana industry. Her mission is to "rebrand cannabis and debunk myths and stereotypes associated with the plant," explaining that only the "more tasteful" brands of cannabis will flourish.
Shuman's Beverly Hills Cannabis Club is just one brand seeking to establish itself in the high-end luxury market for cannabis. Ron Throgmartin's Washington company, Diego Pellicer, wants to be "the Apple of marijuana" complete with the upscale feel of an Apple store. "It's going to be a beautiful store, not a typical head shop or dispensary with bulletproof glass," says Throgmartin.
The marketing of marijuana will require such enhancements as luxury shopping experience and slick packaging, as most marijuana consumers still think of cannabis mostly as a fungible commodity, like apples-the-fruit, not Apple-the-computer. What's your favorite brand of apples? You may prefer Fuji or Granny Smith or Golden Delicious, but did you ever care to buy a particular brand of that apple from a particular store? Thus, Diego Pellicer enhances the shopping environment and packages its product in box reminiscent of fine Cuban cigars.
One of the great early marketing successes has been the Colorado-based edibles company Dixie Elixirs. The company's chief marketing officer, Joe Hodas, explains that "One of the reasons you see so few brands is because of the regulations," citing the state-by-state medical marijuana laws that forbid any interstate distribution and mostly don't even recognize each other's patients. Still, Dixie Elixirs now produces thirty different edible products, from sodas to candy, packaged with professional branding that would fit in perfectly at a health food store. While marijuana aficionados have made Alice B. Toklas brownies for decades, Hodas points out that "people have an affinity for product quality and consistency, which is what we offer."
Until nationwide marijuana legalization is a reality, there will be a fierce competition among marijuana companies to establish themselves as the trusted brands in a chaotic and evolving market. That drama has attracted Fremantle Media (the company behind such hits as "America's Got Talent" and "American Idol") and filmmaker Morgan Spurlock (the director and star of the "Super Size Me" documentary) to develop a reality show called "High Society" featuring Shuman and her daughter Aimee as they expand the Beverly Hills Cannabis Club brand.
But lurking in the shadows of nationwide legalization are the big pharmaceutical and tobacco companies. "I'd be naive to think that big tobacco would never come into the industry," says Jonathan Umbel of Bold Harvest, a competitor to Dixie Elixirs. Eric Schiffer of DigitalMarketing.com tells AdWeek it won't be long before there is "a tier-two pharmaceutical company that decides there's too much money to be made not to participate" and they will "put together a far more professional, quality-focused brand, backed by the marketing talent that has driven an Apple or a Starbucks or even a Pfizer." Todd, who runs a marijuana distribution network in California, is more blunt, explaining, "When the big boys—Monsanto, Pfizer—come in, none of us will be needed here. I expect massacres when they really know the real money [involved]."