Freedom Fighter of the Month
December 2010 – David Clark
Georgia NORML
By Russ Belville, NORML Outreach Coordinator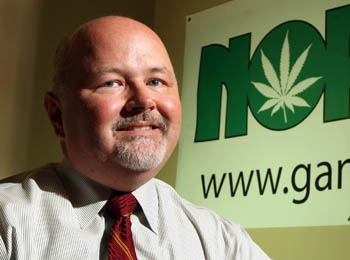 Few places are more difficult to begin marijuana advocacy than the Deep South. Polls consistently show support for marijuana legalization is lowest in the southern states. Many cannabis consumers tell horror stories about the "good ol' boy" culture in law enforcement south of the Mason-Dixon Line.
However, NORML has seen renewed interest in marijuana law reform in Dixie, with new chapters springing up in Louisiana and Alabama, following the lead of this month's Freedom Fighter, David Clark from Georgia NORML. David is a criminal defense attorney and former judge whom we met at the 2008 Aspen Legal Seminar, seeking advice from other attorneys on how best to defend marijuana clients. "After Florida," David told NORML, "Georgia is the most punitive state when it comes to marijuana. Possession of more than an ounce is a felony earning up to ten years in prison. If you used a phone to get your ounce – say you texted your dealer – add another one-to-four years. Even for less than an ounce you can get a year in prison and a suspended driver's license. If you live within 1,000 feet of a school – which most people in cities do – you can get twenty years."
David soon founded Georgia NORML (www.georgianorml.org) to help the cannabis community. He's been producing a very professional "Bud Bulletin" to keep Georgians informed of news and strategy. He's garnered positive news coverage for protests and events and is currently putting together a "Bud TV" channel on YouTube to build support for legalization in the South. He's the author of "101 Ways to Beat a Marijuana Charge in Georgia" to assist other defense attorneys.
You can get involved with Georgia NORML by emailing [email protected]. If you're interested in following in David's footsteps by forming a NORML Chapter in your area, just email [email protected].