Freedom Fighter of the Month
February 2011 – Gov. Gary Johnson
Former Governor of New Mexico
By Russ Belville, NORML Outreach Coordinator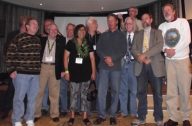 It has long been assumed that marijuana legalization was a "third rail" in politics. No politician would touch it for fear of being labeled "soft on drugs". A pro-legalization stance would bring howls of ridicule and countless pot-pun headlines from the establishment media.
Those days are ending. With four marijuana initiatives on last year's ballot and 19 legislatures hearing medical marijuana bills, marijuana is no longer the joke it was a year ago, when President Obama was chuckling about the popularity of legalization. Political strategists find fewer issues that resonate with younger voters more than ending the prohibition on cannabis.
Enter former two-term Republican Governor of New Mexico Gary Johnson. While in office in 1999, Johnson became the highest-ranking politician to call for marijuana legalization. He has remained consistent on the issue, appearing on cable news stations and talk shows to appeal for an end to cannabis prohibition.
In 2010, Gov. Johnson reached out to the cannabis community. Reforming drug policy is a major plank of his 501(c)(4) advocacy group, Our America Initiative, which states, "Marijuana should be regulated and taxed by the federal government (just like tobacco is currently), which would lead to a lower price for the product and eliminate the criminal element from its distribution, much like the repeal of the prohibition of alcohol many decades back." Gov. Johnson brought that message to the 2010 NORML National Conference (pictured), as well as other pro-marijuana events like the Seattle Hempfest and the Cannabis Revival in Joplin, Missouri.
Gov. Johnson does not partake of cannabis or any other recreational substance (or even caffeine and sugar), but is also honest about his past use. He advocates a "don't do drugs" policy, but understands that the War on Drugs cure is worse than the disease. We hope other politicians take heed.