Sales figures from the Oregon Liquor & Cannabis Commission are in for the month of February. The nine marijuana shops in the Malheur County city of Ontario sold a total of $8.7 million of marijuana products.
That figure is down from previous months, but represents over $700,000 greater sales than the previous February sales of nearly $8 million.
Sales in Ontario have maintained an average of about $9 million per month for the past year and a half, despite lockdowns due to the pandemic and the opening of more stores, both in the Oregon border town of Ontario and in the Nevada border town of Jackpot.
The expansion of legal marijuana sales in Eastern Oregon has led law enforcement agencies in Idaho to report double the marijuana arrests they reported to the FBI in the 1990s.
When Oregon first legalized medical use of cannabis in 1998, Idaho police made roughly 3,000 marijuana arrests a year.
As legal marijuana sales began in Oregon in the early 2010s, Idaho police made about 4,000 marijuana arrests annually.
When those legal sales made their way to Huntington in Baker County, opening up Eastern Oregon to Idaho customers, arrests exceeded 5,000 for the first time.
In 2018, the most recent year unaffected by the pandemic, Idaho police made over 6,000 marijuana arrests.
Throughout that 25-year period, 90-to-95 percent of all arrests in Idaho for marijuana are for possession, not sales.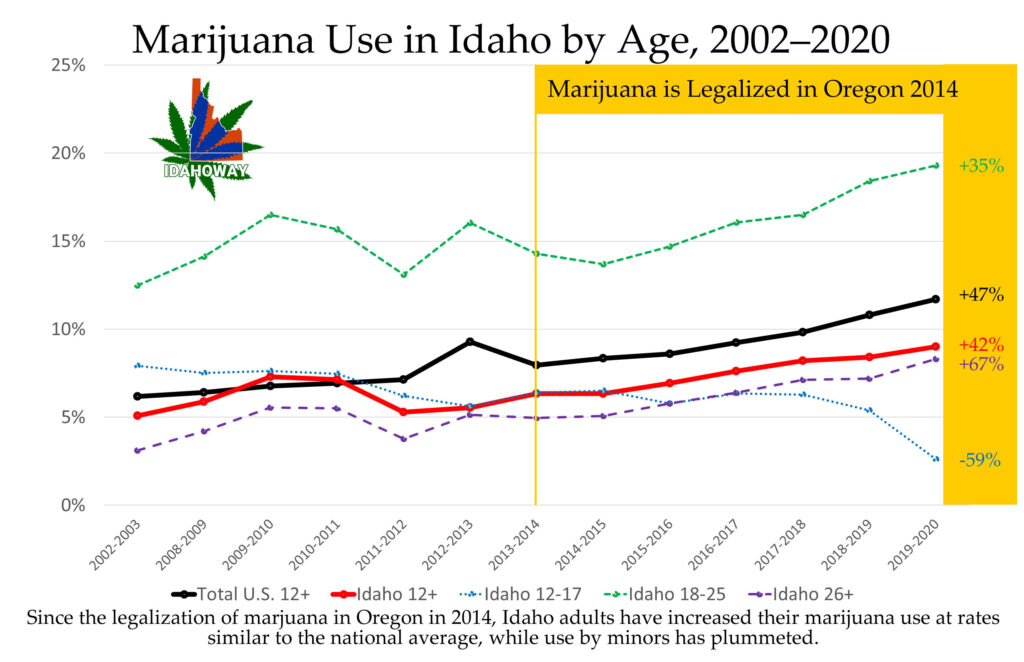 Despite Idaho police making twice the arrests, marijuana use among Idaho adults continues to rise, with college-aged Idahoans' increased use rate outpacing the national average.
Since Oregon legalized marijuana in 2014, the use of marijuana nationally by persons aged 12 and older increased from about 8% to 11.7% monthly, an increase of almost 47%. Use by Idahoans in that timeframe increased from 6.3% to 9%, an increased of 42%.
The fears among some Idahoans that children would be endangered by legalization, however, haven't materialized. While about 6.4% of underage Idahoans (12–17) used marijuana monthly before legalization, just 2.9% used in 2020. That 59% drop may owe much to kids sequestered at home during the pandemic, but the 2019 figure was a recorded low of 5.4%, representing a 15.5% drop. Nationally, use by kids dropped by 8.5%.
Legalization on our borders has clearly benefitted adults, not children. College-age adults (18–25) saw a 35% increase in their use, with now nearly 1-in-5 young adults using marijuana monthly. Nationally, the increase was 19%. The greatest increase in use comes from older people (over age 26). That group saw a 67% increase in Idaho and a 72% increase nationally. Now, about one in every dozen older Idaho adults uses marijuana monthly.
We now have years of data to show that marijuana legalization on our borders has had the following effects in Idaho:
A doubling of marijuana arrests by Idaho police, 90%–95% for simple possession;
Ongoing marijuana sales of $9,000,000 monthly from the nine Ontario shops selling mostly to Idahoans;
Increasing use of marijuana by college-aged and older Idaho adults even as use by minors plummets.
It's long past time we ask ourselves what we think we are accomplishing by continuing to send our marijuana tax money across the border and failing to stop the use of marijuana by Idaho adults.