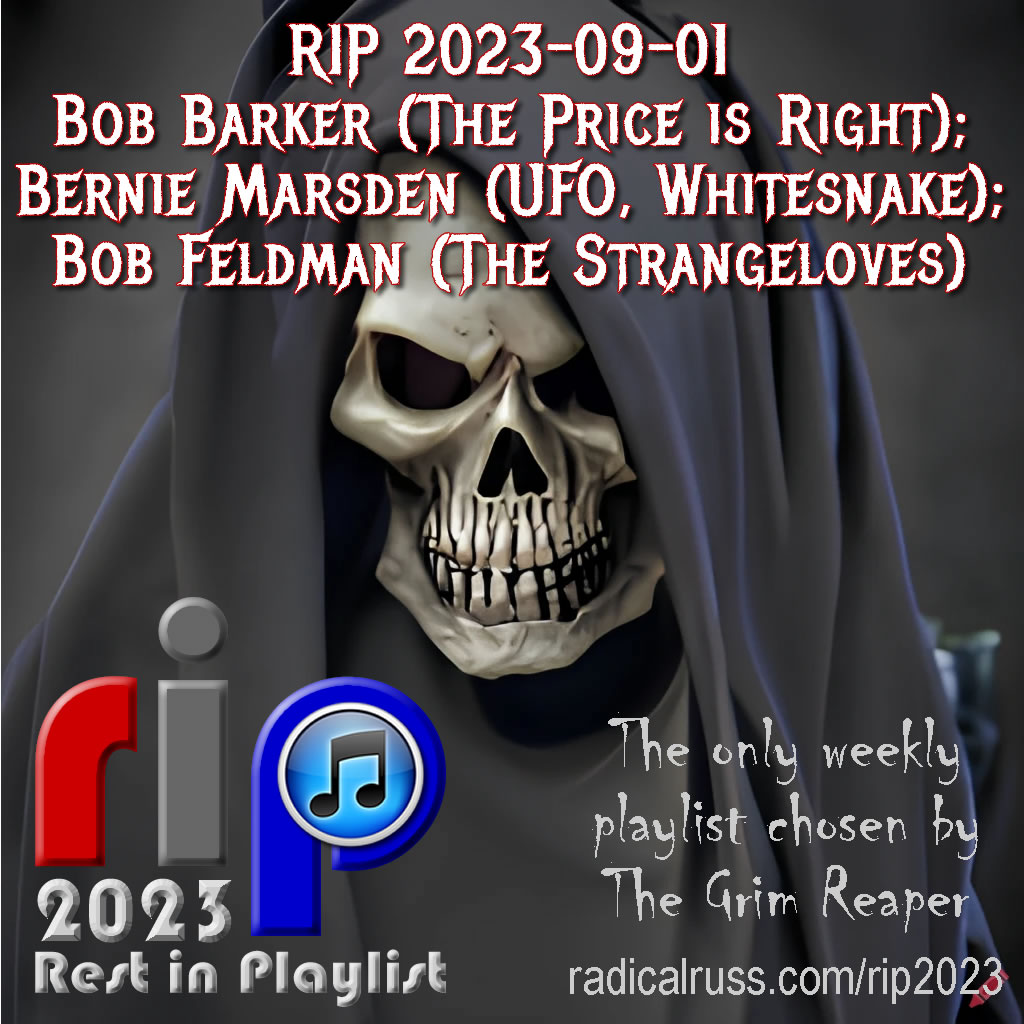 This is the Rest in Playlist for Friday, September 1st, 2023, featuring recording artists from around the world who passed away recently. It's Labor Day Weekend and the Grim Reaper is ushering in Back to School season by taking the game show host you watched staying home from school. We've got backing musicians, producers, and songwriters from some of the biggest acts in the US and UK, as well as international acts from Trinidad, Sweden, Nigeria, and Brazil. Get ready to expand your musical horizons on this global jam session from the great beyond. Let's kick things off with our Opening Act.
Opening Act:
[23 Aug 2023] Bob Feldman, 83, American musician (The Strangeloves), songwriter ("My Boyfriend's Back") and record producer ("Hang On Sloopy").
We open the show with Bob Feldman, an American musician, songwriter, and record producer who passed on August 23rd at the age of 83. Feldman has one of the stranger origin stories on the Rest in Playlist. In 1965, Feldman, with songwriting partners Jerry Goldstein and Richard Gottherer, formed a group called The Strangeloves. Wanting to capitalize on the British Invasion, but unable to fake British accents, they created a fictional backstory that they were Australian brothers Giles, Miles, and Niles Strange. Here's The Straneglove's one hit from 1965, "I Want Candy."
The Strangeloves – I Want Candy (Stereo)
Headliner:
[24 Aug 2023] Bernie Marsden, 72, English rock guitarist (Whitesnake) and songwriter ("Fool for Your Loving", "Here I Go Again").
Our headliner this week is Englishman Bernie Marsden, the 72-year-old songwriter and guitarist with the hard rock band Whitesnake who left us on August 24th. Marsden got his first pro gig in 1972 with the band UFO. After a few different gigs he met up with former Deep Purple lead singer David Coverdale in 1978 and they formed Whitesnake. Here's one of Marsden's compositions, "Fool For Your Loving," originally released on 1980's Ready an' Willing, but hitting #2 on the rock charts with its re-release on 1989's Slip of the Tongue.
Whitesnake – Fool for Your Loving
Main Stage:
[30 Aug 2023] Jack Sonni, 68, American musician (Dire Straits), marketing executive and writer.
On the Main Stage this week we welcome Jack Sonni, an American musician often referred to as "the other guitar player in Dire Straits." He met his maker on August 30th at the age of 68. He retired from performing in 1988 but went on to become a marketing exec for musical equipment companies, and eventually the head of marketing communications for Guitar Center, the national musical equipment chain.
Dire Straits – So Far Away
[28 Aug 2023] James Casey, 40, American saxophonist (Trey Anastasio Band), colon cancer.
Next, joining us on the Main Stage is James Casey, who left for the eternal woodshed on August 28th at the too-young age of 40. Casey played saxophone from 2008 to 2020 with TAB, the Trey Anastasio Band, when he had to retire from touring to fight colon cancer. Here's TAB live in 2017 performing "Magila."
Trey Anastasio Band – Magila (Live 11/3/2017)
[28 Aug 2023] August 08, 31, American singer-songwriter ("I'm the One").
DJ Khaled – I'm The One (Ft. Justin Bieber, Quavo, Chance The Rapper & Lil Wayne)
Don't be confused by our next artist, the youngest member of the Reaper's Rotation this week. His name is August 08 and he died on August 28th. Born Ray Davon Jacobs, August 08 was a singer and songwriter whose cause of death at just age 31 is unknown. He's best known for writing this 9-time platinum hit single for DJ Khaled, featuring Justin Bieber, Quavo, Chance The Rapper & Lil Wayne, called "I'm the One," that debuted at #1 on the Billboard Hot 100 in 2017.
In the News:
[26 Aug 2023] Bob Barker, 99, American game show host (The Price Is Right, Truth or Consequences) and animal welfare activist, 18-time Emmy winner.
In the news this week we can't forgive the Reaper for not letting our next performer make it to exactly 100. Bob Barker was an animal welfare activist who was the longtime host of The Price is Right. He won the Showcase Showdown in the Sky this week on August 26th at the age of 99. For us generation Xers in the audience. Bob Barker's and "Come on down!" went along with chicken soup and Vick's Vapor Rub when you were staying home sick from school. This is The Session performing that iconic game show theme.
Festival Stage:
[26 Aug 2023] MC Marcinho, 45, Brazilian funk melody singer, multiple organ failure.
We're going to get funky this week on the Festival Stage. We begin in Brazil with funk melody singer MC Marcinho, who died on August 26th at the age of 45. Marcinho was prominent in the late 1990s and 2000s, and suffered much during his short life – a 2006 car wreck leading to a leg amputation, pneumonia in 2012 that cut short his performing, being shot, left in a coma from a stomach infection, a 2019 heart attack, and another coma in 2021 from a foot infection, followed by implantation of a pacemaker. Here he is with his hit song "Rap Glamourosa."
MC Marcinho – Rap Glamourosa
[27 Aug 2023] Denyse Plummer, 69, Trinidadian singer, cancer.
Next, we head to the island of Trinidad & Tobago for singer Denyse Plummer, who succumbed to cancer this week on August 27th at the age of 69. Born of a white father and a Black mother, Plummer faced prejudice performing in the Afro-Caribbean genre of Calypso, which she didn't even begin singing until age 33 in 1986. But by 2001, she was winning multiple titles as Calypso Queen and became only the third woman to achieve Calypso Monarch. Here she is singing "Rock Your Soul."
Denyse Plummer – Rock Your Soul
[29 Aug 2023] Peter King, 84, Nigerian multi-instrumentalist and bandleader.
Closing our Festival Stage we travel to Africa for music from Peter King, the Nigerian multi-instrumentalist who left for the Great Beyond on August 29th at the age of 84. Born Peter King Adeyoyin Osubu in 1939, he formed The African Messengers in 1961, a band that backed up The Four Tops, The Temptations, and Diana Ross. Throughout the 70s and 80s, he led numerous bands in the Afrobeat genre of jazz. Here he is performing "African Dialects."
Peter King – African Dialects
Country Bunker:
[28 Aug 2023] Len Chandler, 88, American folk musician.
Our oldest musician in the lineup this week is 88-year-old Len Chandler, an American folk musician who passed away this week on August 28th. Chandler was a Black man who was heavily involved with the protest movements of the 1960s & 70s, including performing with Jane Fonda's anti-war troupe F.T.A. and writing songs for the Black Panther Party's radio show. This track, "Keep On Keepin' On," was used as text for a speech by Martin Luther King Jr.
Len Chandler – Keep On Keepin' On
Encore:
[23 Aug 2023] Bob Feldman, 83, American musician (The Strangeloves), songwriter ("My Boyfriend's Back") and record producer ("Hang On Sloopy").
We welcome back to the stage Bob Feldman, who opened the show with his group, The Strangeloves. Prior to that group, Feldman was half of the songwriting duo Bob & Jerry. When they added future Strangelove Richard Gottherer to the group, they wrote a track for the girl group The Angels that spent three weeks at #1 in 1963 called "My Boyfriend's Back."
The Angels – My Boyfriend's Back
The Strangeloves were really more songwriters and producers than performers. While on the road, they happened upon a band called Ricky Z & the Raiders. Impressed by lead singer Rick Zehringer's talent, they took music from one of their old Strangelove tracks and had Rick (who would later become Rick Derringer of "Rock and Roll Hoochie Koo" fame) sing over it. They dubbed the new act The McCoys and they scored this top 40 hit in 1964 called "Hang on Sloopy."
The McCoys – Hang On Sloopy
[24 Aug 2023] Bernie Marsden, 72, English rock guitarist (Whitesnake) and songwriter ("Fool for Your Loving", "Here I Go Again").
For the final encore, we bring back our headliner, Bernie Marsden. Like the re-released, "Fool For Your Loving," "Here I Go Again" is another track written by Marsden that was released on 1982's Saints & Sinners but then re-released on 1987's Whitesnake, where its video became an MTV megahit and its pop-friendly radio-mix version went on to become Whitesnake's only #1. But the Reaper and I prefer this, the original 1982 "hobo" version, which was changed to "drifter" in the later versions, because American audiences kept mistaking "hobo" for a gay slur.
Whitesnake – Here I Go Again (Original 'Hobo' Version)
Closing:
And that's the Rest in Playlist for Friday, September 1st, 2023. Join us here next week for a tribute to the latest artists to cross over to eternity. Catch up on every year of Rest in Playlist back to 2016 on Spotify and RadicalRuss.com. For Rest in Playlist, I'm "Radical" Russ Belville reminding you to seize the day, it may be your last.