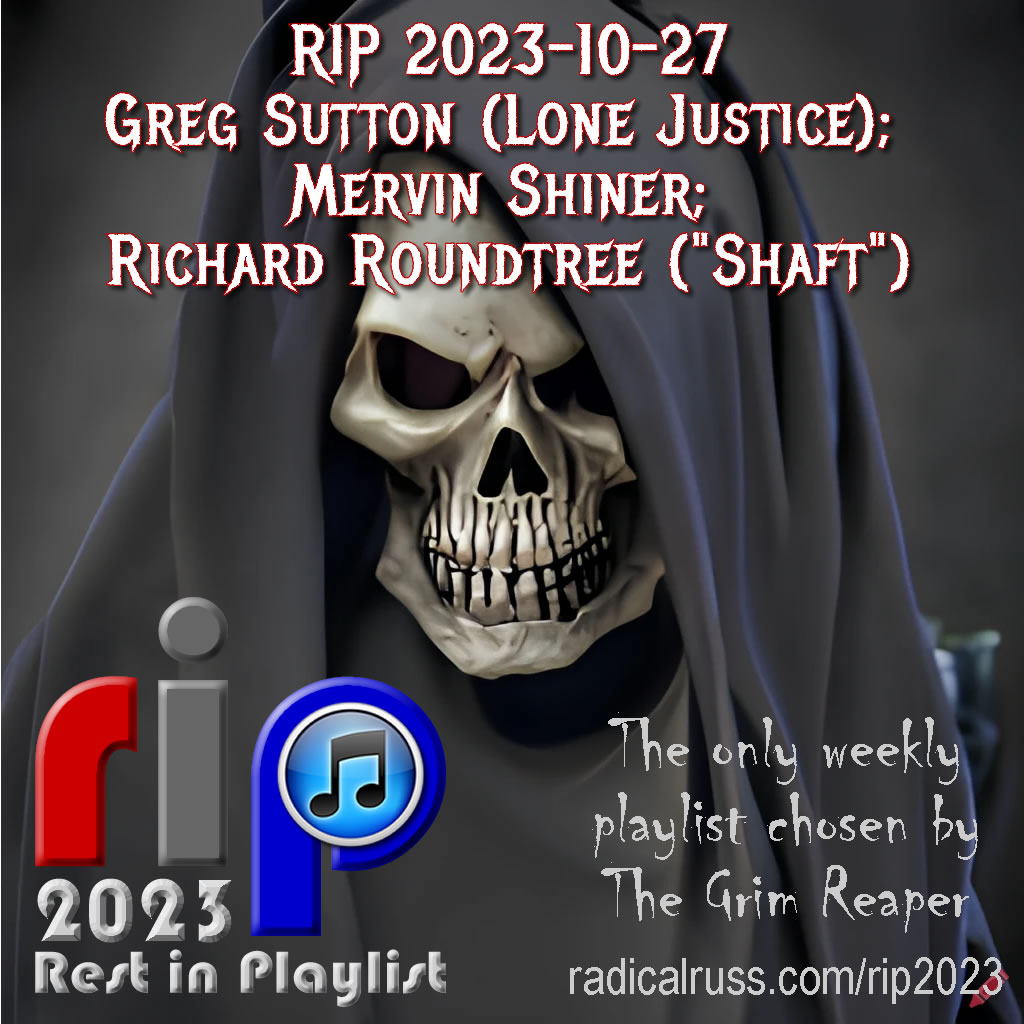 INTRODUCTION
This is the Rest in Playlist for Friday, October 27th, 2023, featuring recording artists from around the world who passed away recently. The Reaper continues to lay wreckage to my Gen-X film icons, this week taking an actor I heard was a bad mother… [SHUT YOUR MOUTH] I'm just talkin' 'bout Shaft! [WE CAN DIG IT]. We've got a centenarian country performer, rock and pop from Japan, heavy metal from Argentina, electronic music from Venezuela, and singers from Greece, Algeria, and Russia. Get ready to expand your musical horizons on this global jam session from the great beyond. Let's kick things off with our Opening Act.
Opening Act:
[23 Oct 2023] Mervin Shiner, 102, American country singer-songwriter and guitarist.
The Reaper always gives a tip of the scythe to anyone who manages to escape him for a century. This week we open up with 102-year-old Mervin Shiner, born in 1921 and died on October 23rd. Shiner began in gospel radio, singing duet with his mom. By 1949, he was appearing on the new medium of television, and by the 1950s, he was a country western recording star known for his honky tonk style. Here is Mervin Shiner with his 1951 recording of "Ball and Chain Boogie."
Mervin Shiner – Ball And Chain Boogie
Headliner:
[22 Oct 2023] Gregg Sutton, 74, American musician (Lone Justice) and songwriter ("Stop!", "Breathe").
Our headliner this week is a bass player whose short tenure with the country band Lone Justice belies his extensive credits. Gregg Sutton also was a songwriter who penned hits for Sam Brown and Joe Cocker and composed for Joe Bonamassa, Eric Burdon, Billy Ray Cyrus, The Human League, Tom Jones, Chris LeDoux, Percy Sledge, and Edgar Winter. He even played bass for Bob Dylan. Here he is with Love Justice with the title cut from their 1986 album Shelter.
Lone Justice – Shelter
Main Stage:
[24 Oct 2024] Ricardo Iorio, 61, Argentine heavy metal singer and bassist (Almafuerte, Hermética, V8).
We continue our lineup of artists in the F-clef by welcoming Argentina's Ricardio Iorio to the Main Stage. He was a co-founder of the influential band Argentine band V8 back in 1978, and continued singing and playing bass with successive bands, Hermética and Almafuerte through 2016. Sadly, Iorio died from a massive heart attack on October 24th at the age of 61. Here is V8 with "Destrucción."
V8 – Destrucción
[23 Oct 2023] Angelo Bruschini, 62, English guitarist (The Blue Aeroplanes, Massive Attack), lung cancer.
Next up we feature Angelo Bruschini, a guitarist from England who performed primarily with a group formed in Bristol in 1981 called The Blue Aeroplanes. By the early 1990s, the group had opened up on international tours for R.E.M. and Siouxsie and the Banshees. Bruschini finished his battle with lung cancer on October 23rd at the age of 62. Here is The Blue Aeroplanes with "Jacket Hangs."
The Blue Aeroplanes – Jacket Hangs
[19 Oct 2023] Atsushi Sakurai, 57, Japanese musician (Buck-Tick) and singer-songwriter, brain haemorrhage.
Closing our Main Stage, we have the lead vocalist and lyricist from one of Japan's most prolific and popular rock bands, Buck-Tick. Atsushi Sakurai first joined Buck-Tick in 1983 as their drummer, but soon moved out front as singer. Over the next 38 years, the band's 23 studio albums have all made Japan's Top Ten. Shockingly, Sakurai became ill onstage during a concert and later died on October 19th from a brain hemorrhage at age 57. This is Buck-Tick with "Kiss Me Good-Bye."
BUCK‐TICK – KISS ME GOOD-BYE
In The News:
[24 Oct 2023] Richard Roundtree, 81, American actor (Shaft, Se7en, Speed Racer), pancreatic cancer.
In the News this week we salute the passing of the man known as "the first Black action hero." Actor Richard Roundtree performed in scores of film and television roles, but he will always be remembered as "the Black private dick who's a sex machine to all the chicks," Detective John Shaft. Roundtree passed away at age 81 on October 24th following his battle with pancreatic cancer. This is the late Isaac Hayes with that iconic "Theme from Shaft."
Isaac Hayes – Theme from Shaft
Festival Stage:
[11 Oct 2023] Aérea Negrot, 43, Venezuelan performer, singer and electronic musician.
Our youngest performer this week opens the Festival Stage. Aérea Negrot was a Venezuelan singer and electronic musician born in 1980 who passed away on October 11th, just two days after her 43rd birthday. Here she is performing "Todeloo."
Aérea Negrot – Todeloo
[08 Oct 2023] Shinji Tanimura, 74, Japanese singer-songwriter.
And now, we go to the island nation of Japan, where popular singer-songwriter Shinji Tanimura has passed away on October 8th at age 74. Tanimura first began recording with his group Alice in 1971 and since then has been recorded on dozens of albums. Here he is performing "Subaru."
Shinji Tanimura – Subaru
[24 Oct 2023] Lily Afshar, 63, Iranian classical guitarist.
Closing the Festival Stage, we have the first woman in the world to achieve a doctorate in the classical guitar. Lily Afshar was born in Tehran, Iran, in 1960 and moved to United States in 1977 to study at the Boston Conservatory. She's won numerous awards, including Best Female Classical Guitarist. This is her performance of "Danza del Altiplano."
Lily Afshar – Danza del Altiplano
International Stage:
[23 Oct 2023] Chronis Aidonidis, 95, Greek folk singer.
We delve into some authentic folk music from around the world this week, starting in Greece, where 95-year-old Chronis Aidonidas has died on October 23rd. He began his studies at the Hellenic Conservatory in Athens in 1950 and caught his break in 1953 when he appeared on the Greek radio show Echoes from Thrace. He went on to record dozens of albums. Here he is singing "Christos Anesti."
Chronis Aidonidis – Christos Anesti
[20 Oct 2023] Cherif Hamani, 67, Algerian Kabyle singer.
Next, we head to Algeria where Cherif Hamani has left us on October 20th at the age of 67. Born in 1956, Hamani got his break on Algerian radio in 1974. He went on to become one of the leading performers of this Algerian folk music.
Cherif Hamani – A tezmegh
[17 Oct 2023] Roza Agisheva, 59, Russian singer (Big Children's Choir) and actress (Crank from 5th B).
We move now to the former Soviet Union with Roza Agisheva, a Russian singer with the group The Big Children's Choir of the USSR, who died on October 17th at the age of 59. The Choir was quite popular for their renditions of children singing popular Russian and Soviet nationalist folk songs. Here they are performing "Crane Song."
Big Children's Choir – Crane's Song
Jazz Cellar:
[17 Oct 2023] Carla Bley, 87, American jazz composer (Escalator over the Hill) and musician (Jazz Composer's Orchestra), brain cancer.
In the Jazz Cellar this week we welcome Carla Bley, born Lovella May Borg in 1936. She was a jazz composer and pianist best known for her work, "Escalator Over the Hill." She was first exposed to jazz as a teenage cigarette girl in the famous Birdland club, where she met her future husband, jazz pianist Paul Bley, who encouraged her to write. She then became an influential figure in the free jazz movement of the 1960's. Bley died on October 17th at age 87 following her battle with brain cancer.
Carla Bley & The Jazz Composer's Orchestra – Escalator Over The Hill
Closing:
And that's the Rest in Playlist for Friday, October 27th, 2023. Join us here next week for a tribute to the latest artists to cross over to eternity. Catch up on every year of Rest in Playlist back to 2016 on Spotify and RadicalRuss.com. For Rest in Playlist, I'm "Radical" Russ Belville reminding you to seize the day, it may be your last.