I had an appointment with my absurdly attractive female doctor this morning. At the intake, I was asked to fill out a form with all sorts of personal information, much of which was indicated to be necessary for the clinic to track to comply with state statistical needs. Not personally identifiable info, like "Russ is a male," but collected and generic, like "the population of this clinic's patients is 45% male."
The form exhibits the requisite amount of wokeness one would expect in Oregon. It asked me my "sex at birth," which I altered to "sex at birth" and chose "male" over "female" or "intersex" and the choices of "trans male to female" and "trans female to male," which are choices that couldn't possibly exist at birth. I
It asked what pronouns do you use, but my choice was not there, so I wrote in "I/me/mine," because those are the only pronouns I use in reference to myself. All the other choices were pronouns others would use to reference me when speaking to others, and I don't care what people call me behind my back.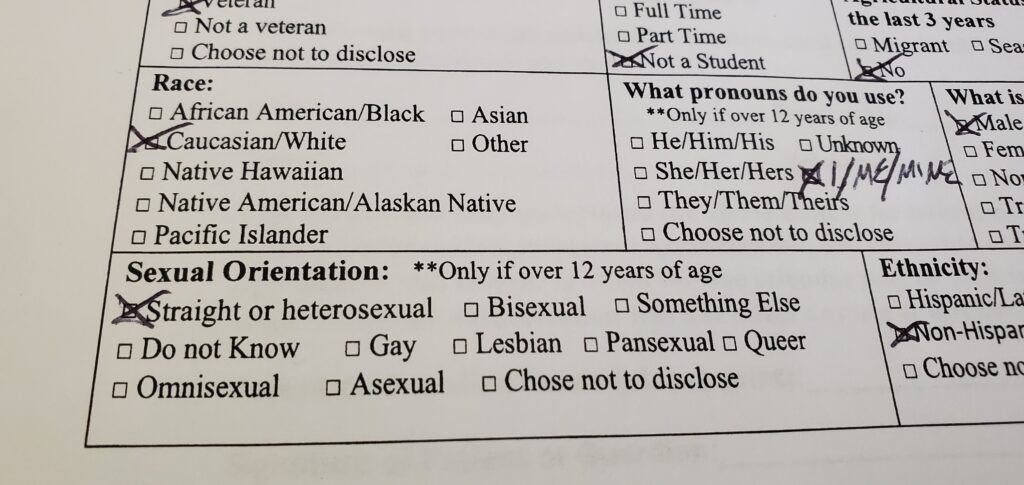 Then I got to the sexual orientation section. I totally understand the need to determine health care statistics regarding gay and lesbian people. Same sex relationships have differing medical and reproductive needs. Though my orientation (slightly crooked) isn't listed, I choose "Straight or heterosexual," unsure what exactly the difference is between those two choices.
Then I see there are other choices, like "bisexual." Okay, sure, that would also present needs probably combining the needs of both straight and gay, and maybe some unique needs as well.
Then it loses me. "Omnisexual" and "pansexual?" I know my Greek prefixes, and those two kinda both mean "all." So, you know me, I look shit up.
Many people use the terms pansexual and omnisexual interchangeably. While they are closely related, there are differences between the two. Those who identify as pansexual feel attraction to people without noticing their gender, while omnisexual people recognize the gender of potential partners.

WebMD: What Is the Difference Between Omnisexuality and Pansexuality?
So, if I'm reading this right, if you're omnisexual, you'll fuck anyone, but if you're pansexual, you'll fuck anyone. Which is different from bisexuals, who'll fuck anyone.
The WebMD continues, explaining, "Pansexual people are gender-blind, while omnisexual people are not." I'm still confused. Do we mean gender "gender," the way we present, or do we mean sex "gender," our naughty bits?
Why does my medical clinic need to know the why behind the what I'll fuck? What statistical benefit do we gain by knowing that a person will fuck any body type, but differentiating them by whether they notice?
I read the whole article and was left with more questions than answers. If this omnisexual person is attracted to both male bodies and female bodies, and recognizes and appreciates them as men and women, and finds attraction in either masculinity or femininity, how have I not just described a bisexual person?
If this pansexual person is one who has sex with either male or female bodies, but feels them being men or women is irrelevant, and finds no attraction in masculinity or femininity, how does that person's medical needs differ from an omnisexual's?
This only starts to make sense to me if we differentiate "sexual orientation," the naughty bits you desire, from "gender orientation," the sexual expression you desire. In that frame, I could see a bisexual as one who desires poles and holes, but only desires the males as men and the females as women, whereas an omnisexual desires poles and holes and desires all of the four sex/gender configurations, and a pansexual is fine with poles and holes but has no desire related to gender.
But that opens the door to the "super straight" and "super gay" concept, the idea of being strictly attracted to either just poles or just holes with a traditionally matching gender, that is anathema to the farthest left. Indeed, there are some lefties who'll deem straight men and lesbian women "transphobic" if they categorically dismiss attraction to trans women. "Don't be so hung up on genitals," they scold, as if that isn't the whole point of sex.
Must every flavor and kink of human sexuality now have its own flag and checkbox on a form? There are compelling medical reasons to know if a body is male or female. There are compelling societal reasons, like a history of ostracization and oppression, to show pride and support for same-sex orientations. But was there ever a widespread movement to bash and suppress, say, demiromantic sapiosexuals?