Maybe you've seen this Gallup poll about Donald Trump's approval among Gen-X white men. It's from 2017, but there have been others since that have basically replicated the results.
Two-thirds of white, male, non-college graduates, over 50 years old, support Donald Trump? Why, that's ME! Geez, the last time I was on the minority side of a group's 2-to-1 disagreement, I was a Portlander calling for the Trail Blazers to draft Kevin Durant instead of Greg Oden.
I was right then. I am correct now. But as a 52-year-old white male non-college graduate who loathes Donald Trump with the white-hot intensity of a supernova, I wonder, "what the hell is wrong with the rest of my kind?"
White Supremacy, duh!
The problem with Democrats the last two times around is in not recognizing that there are still a whole lot of white men in this country (about 110 million) and their distribution in this country, combined with the white supremacist structure of our electoral system, means they still maintain disproportionate electoral power.
There are nineteen states in the United States where the population is at least 80% white. I've shaded them on the map above in varying shades of black and white.
I was born and raised in Idaho, a state that is over 90% white and less than 2% black (there are five of them). Those states that are grayer, that have populations still less than 10% black, are only shaded that way because of their large cities, like Milwaukee, Gary, Minneapolis, and Omaha.
In other words, there are great swaths of this country where Gen-X white men live who only ever see and interact with other white men, aside from migrant Hispanic farm workers and the occasional Native American at the casino.
And they've got about as many Electoral Votes as California.
Trump ♥ White Men
Donald Trump saw that demographic. As Bill Maher has put it, Trump treated white guys as an aggrieved minority. Trump took a page from the left's playbook and weaponized identity politics to his benefit.
Throughout all of that 2015-2016 campaign, the establishment Democratic response was to treat him like a joke, like when Huffington Post relegated stories of his campaign to the Entertainment vertical and CNN pundits openly laughed at his candidacy, topped off with Hillary Clinton's infamous "deplorables" remark.
Yes, it is true, there are deplorables among us white men. But Democrats have never gotten to the reason why it is so easy for white men to have deplorable views and to reject the Democrats.
Remember, for many of us in flyover country, we don't even see any black people. I personally did not see a black person in the flesh until I was eleven years old. In all my twelve years of public schooling, there were three black students in my schools. Not my grade, my entire school.
When you're raised in that environment, you pick up racist thinking by osmosis. You don't know anything about black people except what you see on TV – criminals and millionaires. Black guys always framed as the perpetrators of crime and drugs and violence in those terribly crowded dirty liberal-run cities so far away. The causes of the urban crime and drugs and violence left unaddressed, implied to be a fault of "those people" (or worse epithets) because, after all, Oprah and Tyler Perry and Jay-Z and LeBron James made it out okay.
I was lucky to have liberal parents, unfettered access to educational literature, and freedom from religious upbringing. Even with those advantages, the first presidential vote I cast was for George H.W. Bush. It's taken me many discussions, much reading, some travel, and plenty of soul searching to overcome my Idaho roots.
We don't have that kind of time and resources for millions of other white guys.
Democrats ♥ Everybody But White Men
If you're an uneducated white man in flyover country, the past three decades feel like Democrats cared about everybody but you. The Democrats cared that gays could marry, that lesbians could adopt, that transgender people could serve in the military, that black lives mattered, that immigrants could get drivers licenses, that their kids could become citizens, that Muslims could wear the hijab in a bank, that the terms they used for little people or developmentally disabled people were offensive, that women can abort pregnancies, that teen girls can get birth control, that everybody but white men get scholarships and have identity activist groups… if there's a non-white male group with a problem, the Democrats are on it!
Meanwhile, these uneducated Gen-X white men saw Democrats ship their jobs overseas, close their factories, create hiring policies that disfavored them, mock their culture, fail to provide them healthcare, then fine them when they can't afford it, while telling them that they and their ancestors are the cause of all the problems everybody else suffers, and shut the fuck up about your problems because you've got white privilege.
That kind of politics worked when we had a once-in-a-generation* political talent like Bill Clinton or Barack Obama leading the ticket, overwhelming the white vote with black turnout in Obama's case or benefitting from Perot and Bush splitting the white vote in Clinton's case. (*OK, so Clinton was born in 1946 and Obama in 1961, making them both Boomers, but on the edges.)
Can it work with Joe Biden leading the ticket?
It's About Class, Stupid
Lyndon Johnson once famously remarked, "If you can convince the lowest white man he's better than the best colored man, he won't notice you're picking his pocket. Hell, give him somebody to look down on, and he'll empty his pockets for you."
Bernie Sanders got this concept. Yes, racism borne of white supremacy is the original sin of this nation and is the primary factor in almost everything that ails us.
But how do you get white people to address that by shouting, "Hey, you racist white male motherfuckers, this system you created and love that helped you to succeed for generations has to be destroyed, because, like you, it's racist as fuck?"
Bernie's aim was to help the white guy notice his pocket is being picked along with everybody else's, to direct that white rage at the pickpocket, not the rest of his victims.
That strategy was soundly rejected by Democrats. Bernie was said to be glossing over the racial resentment in America. They point to numerous analyses that show racial resentment, not economic anxiety, were the determining factors in predicting a Trump vote.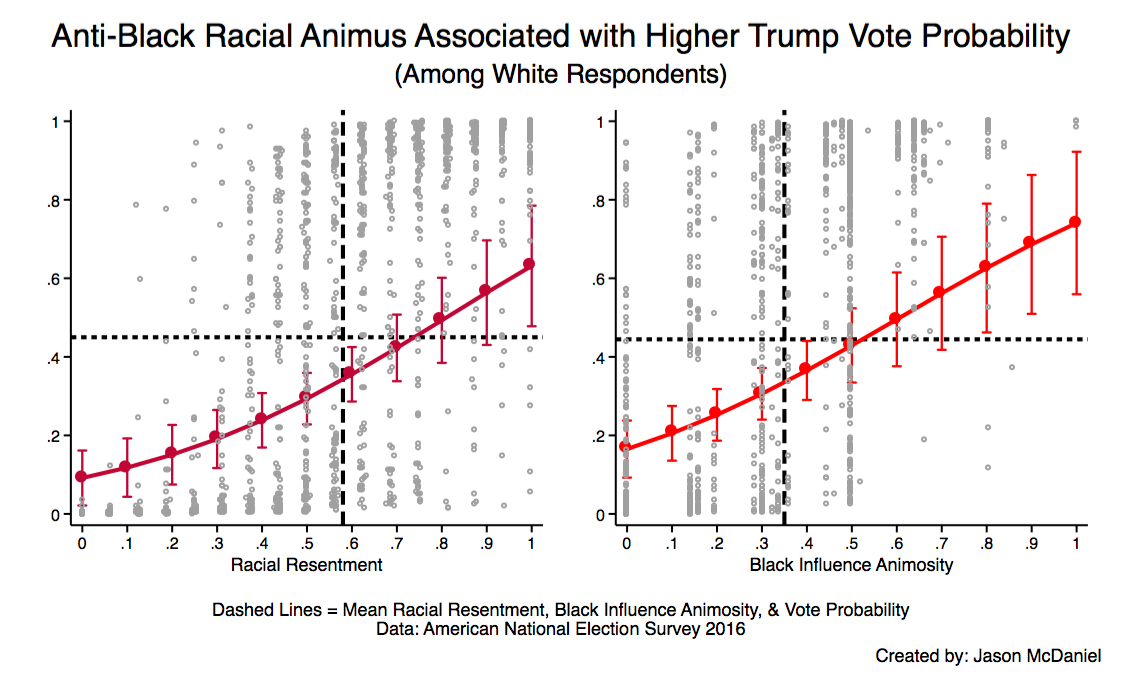 However, that same data showing racial resentment predicting a Trump vote also showed racial resentment influenced white people's perceptions of their economic anxiety.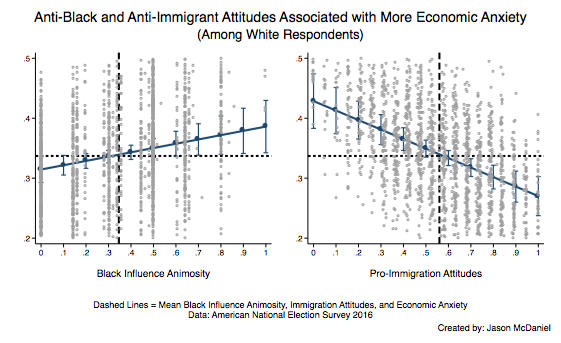 Gen-X white men have been convinced that black men (or, the government that favors them) are picking their pocket, not other, richer white men.
Maybe conquest is the only solution
The Nation article I clipped those last two charts from makes a sobering conclusion:
Economic conservatism and white nationalism will become more fully intertwined for Republicans, as will racial and economic equity for Democrats. Republicans have shown little interest in attempting to hold back Trump's openly racist rhetoric. On the other side, few Democrats have proposed abandoning civil rights (and those who have met intense backlash). Democrats may press forward with an economic, racial and gender progressive agenda, while Republicans continue to tie economic conservatism to white identity politics.

From The Nation at https://www.thenation.com/article/archive/economic-anxiety-didnt-make-people-vote-trump-racism-did/
As my mentor Keith Stroup once taught me, "Sometime you just have to outlive the bastards." Others have said, "Demographics are destiny," pointing to the shrinking of the white electorate through lower white birth rates and immigration. It's often noted that by 2050, whites will be a minority in America.
But they'll still be a plurality – the largest minority. And they'll still be congregated in largely homogenous states with disproportionate electoral and legislative power.
Do we intend as Democrats to move forward through the next fifty years without trying to reach those "Deplorables?" Do we intend to just overwhelm them at the ballot box and force their states to adopt our worldview? Do we expect they'll just go along quietly and keep their arsenals only for hunting and target practice?
Democrats better find a way to make the party a welcoming place for uneducated Gen-X white men, too, or be prepared to deal with a white terrorist insurgency for the rest of the century. These guys have lots of guns and ammo, billionaire capitalist backers, and they fully believe God is on their side.