Freedom Fighter of the Month
May 2011 – Kandice Hawes
Orange County NORML
By Russ Belville, NORML Outreach Coordinator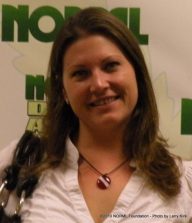 There are an estimated 100 million American adults who have used cannabis in their lifetime and 14.6 million adults who will use cannabis monthly. Yet some only get involved in cannabis activism when they become one of the 850,000 adults arrested for cannabis.
Our Freedom Fighter, Kandice Hawes, would probably prefer you got involved before getting arrested and suffering the consequences that compelled her to become the president of Orange County NORML and one of the most visible legalization activists in California.
Kandice was working as an office assistant in 2003 and attending school at Fullerton College when a trip to Las Vegas with friends led to a traffic stop. She was arrested for possession of a small baggie of marijuana police found in her purse. The bust meant the end of her federal student aid and Kandice found herself forced out of school. Undeterred, Kandice flew herself to Washington, D.C. to lobby Congress to change the Higher Education Act's ban on federal loans and grants for students busted with cannabis.
Since founding Orange County NORML, Kandice has been holding regular monthly meetings for the public, lobbying her state and local officials, and putting on amazing activist events, such as their annual protest at the US Open of Surfing. Kandice is highlighted in many local media reports, including a recent feature in the Orange County Register. She also put together the hugely successful Know Your Rights Expo in Anaheim, California, directly across the street from the notoriously conservative Disneyland Resort. She and her crew can be found tabling at most of the big California festivals, such as last year's THC Exposé at the Los Angeles Convention Center.
Kandice Hawes, still in her twenties, exemplifies the strong female leadership being cultivated through the NORML Women's Alliance at local chapters throughout America.