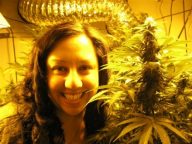 NORML SHOW LIVE, our podcast at stash.norml.org, just produced our 700th show. We livestream news, interviews, and opinion every weekday at 1pm Pacific, with Daily Toker Tunes at twenty after the hour. NORML couldn't do it without the hard work of Karri Gallaugher, Jon Hamm (no, not the "Mad Men" guy,) and other dedicated volunteers.
"Cannabis Karri" is the news editor for the show and the voice of our Weekly News podcasts. We stream from Portland, but Karri works remotely via Skype from Astoria, Oregon – the gorgeous Oregon town at the mouth of the Columbia River. She is also active in the North Coast Oregon NORML chapter and often assists at national NORML events.
"Ganja Jon" works as board operator and co-host of the show. We met Jon in an interview about his story of fighting for a kidney transplant as a medical marijuana patient. Our listeners followed him through his loss of an eye, his transplant, and now his successful recovery. No longer forced by fear of being booted off a transplant list, Jon is able to tell his story and work to save other patients from such discrimination.
Karri also works as one of our music editors for Daily Toker Tunes. She hosts a folk music show on KMUN CoastRadio.org and brings us our "roots" music. John Doe Radio in Denver gets us our "groove" music. Grateful Dread Radio in New Jersey serves up the "irie" music. Cannabis Cure from the UK spins the "electronica". Urb Thrasher in Portland delivers the "rawk".
Modern technology allows NORML to organize seven volunteers in four cities in three states and two countries to spread the growing truth about cannabis like never before. Catch replays all day and download music at stash.norml.org or subscribe to the NORML Daily Audio Stash on iTunes.