Freedom Fighter of the Month
August 2011 – Ben Masel
Community Organizer, Madison, Wisconsin
By Russ Belville, NORML Outreach Coordinator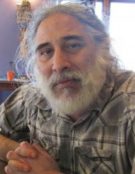 If you watched the TV news coverage of the Wisconsin labor protests in Madison last February, you may have seen this month's Freedom Fighter Ben Masel. A longtime activist with Madison NORML, Ben was instrumental in creating the vibrant cannabis community in the state, including organizing Weedstock and the Great Midwest Harvest Fest that celebrates its fortieth anniversary this October 1-3 (see madisonhempfest.com). He's currently been fighting over the past few legislative sessions to get Wisconsin to pass the Jacki Rickert Medical Marijuana Act.
While Ben fights for the end of marijuana prohibition, his activism also extends into mainstream politics as well. He's a passionate civil libertarian, advocating equally for free speech and gun rights, personal privacy and a return to stronger congressional control of war powers. Ben has run many times for elective office, from a challenge to Governor Tommy Thompson in 1990 to his current candidacy for the US Senate seat held by Herb Kohl. He first caught attention for his radicalism when at age 17 he became the youngest person placed on President Nixon's infamous "enemies list" and "the man" has kept his eye on Ben ever since.
This March at the age of 56, Ben received the horrible news that he'd been stricken by lung cancer. Speaking to the Wisconsin State Journal, Ben said, "I'm feeling pretty upbeat about stuff. Not about having (cancer), but overall. I'm definitely not in the 'Oh, no, poor me, I've got cancer' mode." In reviewing our records, we're stunned and embarrassed that Ben had not been listed among the 206 activists who've won the award since 1990. Everyone at NORML and HIGH TIMES extends our highest hopes for Ben's good health.