Freedom Fighter of the Month
September 2011 – Georgia Edson
President & COO of Herbal Connections, Denver, Colorado
By Russ Belville, NORML Outreach Coordinator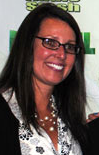 Georgia Edson represents an incredibly important and very specialized niche in our movement: non-pot-smoking moms who support ending marijuana prohibition.
Coming out of the closet as a supporter of marijuana legalization is tough enough for mothers on a personal basis. It's not the kind of conversation brought up easily at the day cares, the PTA meetings, soccer matches, and break rooms. The social stigma around marijuana and the "what about the children" scaremongering are brutal and moms who support legalization are branded as "potheads" and bad parents sending their kids "the wrong message."
Over the past year, Georgia Edson didn't just tell her friends, family, and co-workers that marijuana prohibition should be abolished, she told the whole world and stood up to do something about it. "If a year ago you would have said I would have been the president and chief operating officer of a medical marijuana business," Georgia told the world at NORML CON in Denver last April, "I wouldn't have believed it."
In addition to operating Herbal Connections in Denver, Georgia is a member of the steering committee for the NORML Women's Alliance. She is also the co-host of The Mile High NORML Show on The NORML Network (live.norml.org).
"Our number one priority as parents," Georgia explained, "is to provide a safe environment for [our children], and we can't do that if we're in prison… But the world is never going to be the way we want it to be if we don't stand up and talk, in numbers, about our relationship with cannabis."
So why does Georgia, a non-pot-smoker, stand up for those who do? "Because it is the right thing to do."