Once again the Idaho Legislature is in session. The Senate has already made national news for the efforts of an ironically-named State Sen. C. Scott Grow trying to pass a constitutional amendment to forever ban medical marijuana.
Remember, medical marijuana is already illegal in Idaho. In fact, even hemp-derived CBD oil and industrial hemp itself are considered "marijuana" in Idaho. But Grow and the Legislature know that 73% of Idahoans—including 63% of Republicans, 62% of LDS Churchgoers, and 64% of Idahoans over age 65—support medical marijuana and would easily pass the Idaho Medical Marijuana Act when it makes the 2022 ballot.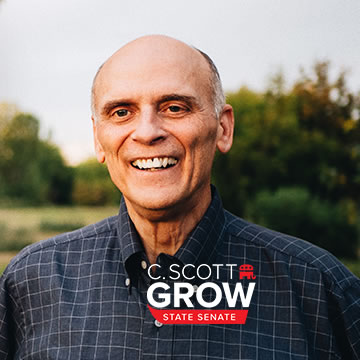 This move by Sen. Grow is even more despicable knowing that his own sister-in-law is a medical marijuana patient, forced to move over the border into Oregon to treat her chronic condition, using medical cannabis legally grown by his niece.
Idaho would ban ALL abortions, even Plan B
Another bill being presented in the House would ban all abortions in the State of Idaho, period. No matter how many weeks along, no matter if it is done by surgery or by pill, any woman who carries a fertilized egg in her womb is now carrying "an unborn human being" and she will be committing homicide if she aborts her pregnancy (though prosecutors can offer her immunity if she snitches on her doctor).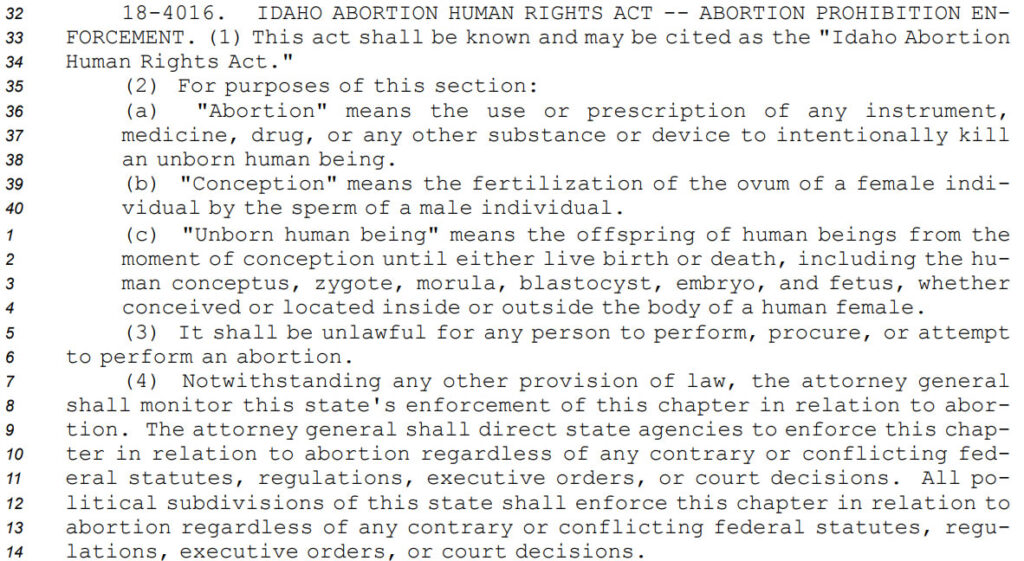 Never mind that most of the eggs a woman ever produces that end up fertilized by sperm don't implant in the womb and are flushed out during her menstruation. Never mind that miscarriages happen, and, under this law, a woman could be suspected of inducing that miscarriage and prosecuted as a murderer. Never mind that under the 1973 Roe v. Wade and subsequent Supreme Court decisions, this law is patently unconstitutional.
Pandemic, Shmandemic
Idaho has been as hard-hit by the global COVID–19 pandemic as any other state. At the end of last year, the Republican Gov. Brad Little and his state health department issued an order prohibiting public and private gatherings of over ten people.
These orders are common throughout the country and recognized by the latest medical science as being crucial to reducing the spread of the coronavirus throughout the population as we work toward full inoculation against the virus.
So, naturally, the Idaho House is putting forth a resolution to declare the order null and void. And why not? If you're going to ignore the medical science on marijuana and pregnancy, go for the hat trick and ignore the medical science on social distancing.
Vaccination, Shmaccination
And what rejection of medical science is complete without some anti-vaxx nonsense? The House is proposing a bill that would forbid any mandatory vaccinations and forbid any exclusion of people who refuse vaccinations.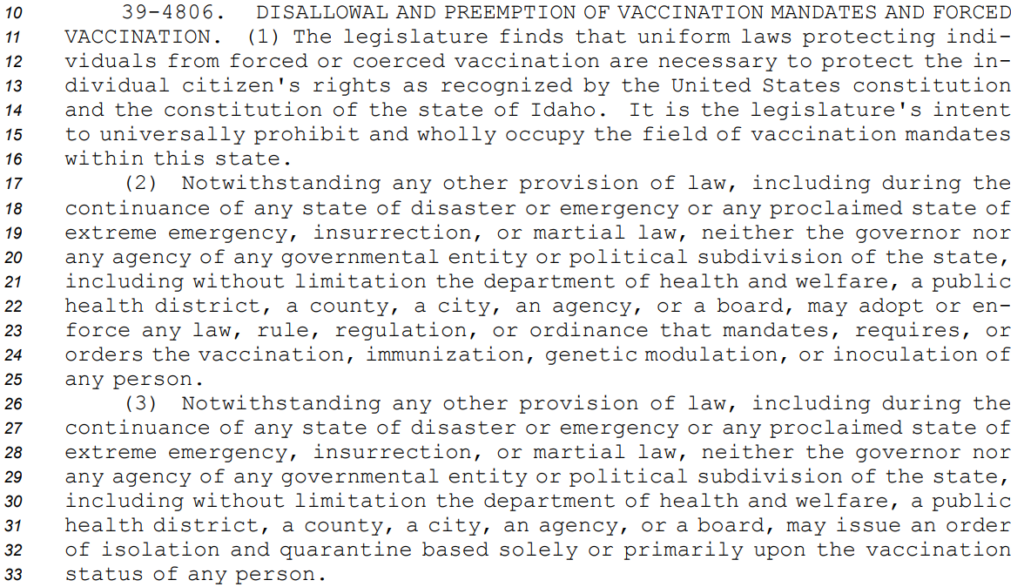 I actually have some sympathy for paragraph (2). I don't think the government should be allowed to violate anyone's bodily sovereignty, whether that's government telling us we can't put certain substances in our body or government forcing us to put certain substances in our body.
But I must object to paragraph (3). The choices we make with our bodily sovereignty are not free from consequences. I have the freedom of speech to scream "I hate you all and wish you all dead" at the top of my lungs wherever I go, but it's probably going to get me kicked out of some spaces. I have the freedom to get blackout drunk, but it's probably going to get me kicked out of church. Likewise, I have the right not to accept vaccines in my body, but it's reasonable to not allow my disease-spreading body in spaces, for the protection of others who cannot accept vaccines—they have rights, too.
Let Landlords Price Gouge!
Something I never expected to see on the legislative radar in Idaho is the topic of rent control. This is a feature of many metropolises, like New York City or San Francisco, where apartment space is scarce and the costs of rent can skyrocket out of control. Rent control dictates that once someone is renting an apartment, that rent can't be increased but for small upticks related to increases in the cost of living.
But Idaho, especially the Boise area, is the fastest-growing economy in the United States. That has led to skyrocketing housing prices and an influx of new residents from far more progressive states than Idaho, who bring with them the idea of rent control from the urban states they've left.
It turns out the Idaho has had a law against cities being able to impose rent control, and now the House wants to amend that law to include fees and deposits as well, so landlords have the freedom to jack those up, too.
Good ideas that are bound to die
Not everything coming out of the Idaho Legislature is odious. There are some proposals from state Democrats that would make Idaho a better place to live. Naturally, they won't see the light of day under the Republican supermajorities, but it's nice to see the effort.
Senate Bill 1030 would add sexual orientation and gender identity to the state's anti-discrimination statutes.
House Bill 52 would ban so-called "conversion therapy" meant to brainwash and torture gay, lesbian, and transgender minors. Yes, such a thing is legal in the state of Idaho.
House Bill 54 would repeal a ban on cities being able to set bans on reusable plastic shopping bags.
If you'd like to contact Idaho Legislators about any of these bills, you can find their phone and email at IdahoCann.co.