Oregon Legalization Study Predicts $38.5 Million in Taxes on $145 Ounces
A new study compiled by ECONorthwest has predicted that Oregon will reap $38.5 million in marijuana tax revenue in the first fiscal year of legalization. The Control, Regulation, and Taxation of Marijuana and Industrial Hemp Act promoted by New Approach Oregon has qualified for the November election ballot and will cap the taxation of marijuana at $35 per ounce for flowers, $10 per ounce for leaves, and $5 per immature marijuana seedling.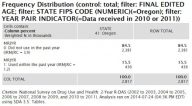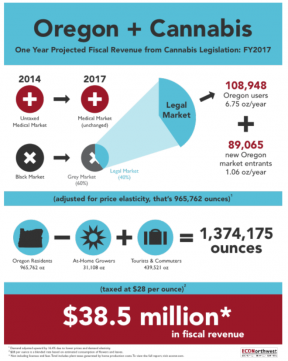 The Act does not affect the Oregon Medical Marijuana Act, so researchers did not include the 64,000+ patients in their calculations. In the first three years, analysts expect the legal market to capture 40% of Oregon's current black market. There are 436,000 adults 21 and older who are consuming marijuana on an annual basis, 314,000 who consume monthly, and 108,000 who consume at least two out of three days per month. The study focuses mostly on that last category of regular users, who they estimate use on average 6.75 ounces per year. Additionally, researchers predict 89,000 tourists and commuters consuming about an ounce per year, totaling 1.3 million ounces (or 36.85 metric tons) of marijuana consumption per year.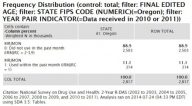 Previous research shows Oregon farmers produce about 72% flower and 28% leaf, so the $35/oz flower tax and $10 leaf tax works out to an average $28/oz tax. Multiplied out to the 1.3 million ounces gives us the $38.5 million tax estimate.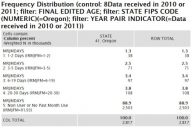 Current prices for Oregon marijuana as averaged by ECONorthwest are $180 per ounce. The study looked at the production costs at a typical 10,000 square foot indoor growing facility and found that marijuana could be produced for about $42 per ounce. Outdoor growing on a quarter-acre farm reduces costs significantly to about $16 per ounce. Assuming 80% outdoor production and 20% indoor production, analysts estimate the average production cost at about $27.50 per ounce. After the average $28 marijuana tax and business income tax burdens under IRS Code 280E, the study predicts a 19.5% drop in Oregon marijuana prices to just $145 per ounce.