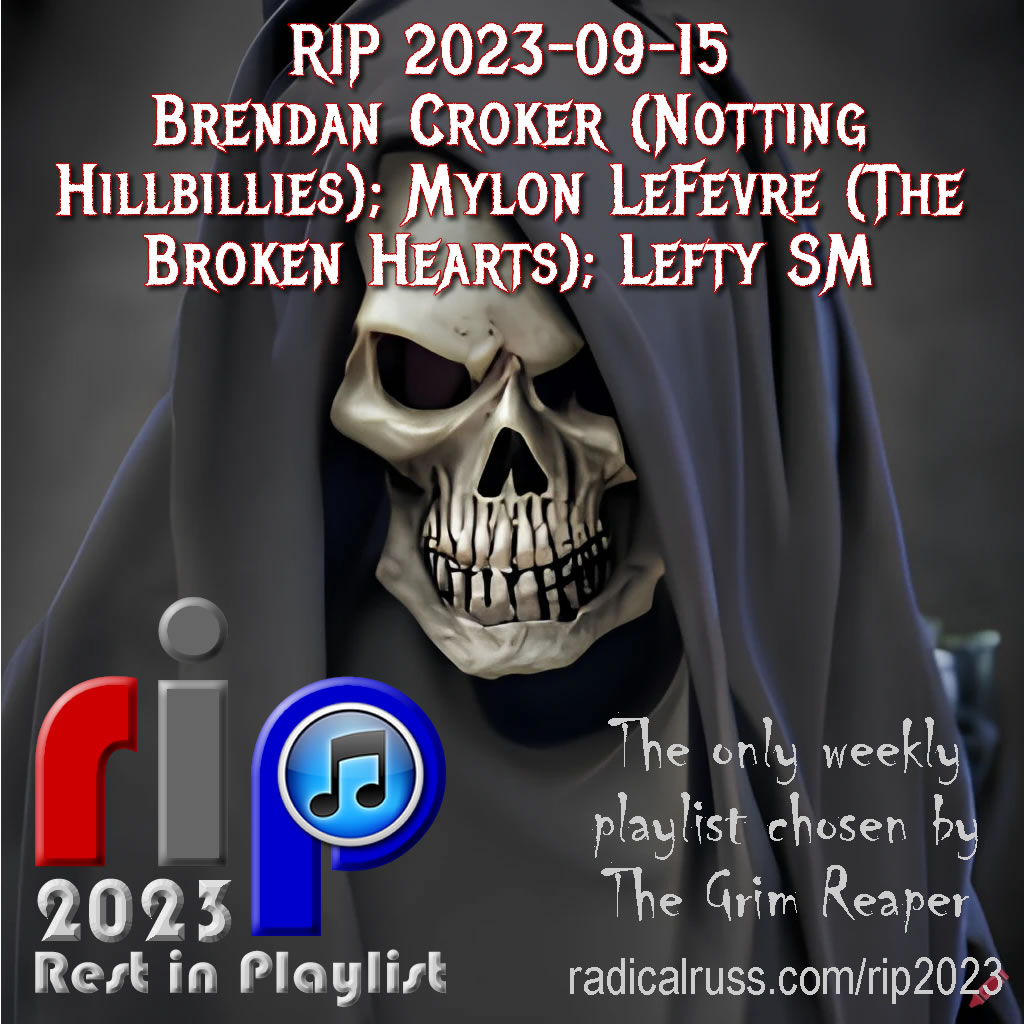 INTRODUCTION
This is the Rest in Playlist for Friday, September 15th, 2023, featuring recording artists from around the world who passed away recently. Last week, the Reaper overdid it by taking from us three headline acts. This week, we return to our world tour of the obscure, including rap from Mexico and Nigeria, American ska, English country-rock, a triple shot of jazz, some Christian Rock, and pop singers from the Czech Republic, Turkey, India, and France. Get ready to expand your musical horizons on this global jam session from the great beyond. Let's kick things off with our Opening Act.
Opening Act:
[08 Sep 2023] Mylon LeFevre, 78, American Christian rock singer, cancer.
Opening our program this week we have Gospel Music Hall of Famer Mylon LeFevre, who returned to Jesus on September 8th at age 78. Mylon was born into the pioneering Southern Gospel group The LeFevres, with which he performed as soon as he was old enough to sing and play. At 17, he wrote "Without Him," which Elvis Presley heard him sing. Elvis re-recorded the tune, netting Mylon $90,000 in initial royalties. He went on to record with Eric Clapton, Elton John, Billy Joel, Duane Allman, Berry Oakley, Little Richard, and the Who, among others, and with his group the Broken Hearts is considered the Father of Jesus Rock. Here they are, with "Crack the Sky."
Mylon LeFevre – Crack The Sky
Headliner:
[10 Sep 2023] Brendan Croker, 70, English musician (The Notting Hillbillies), leukaemia.
Our headliner this week is Brendan Croker, an Englishman best known for his guitar and vocal work with The Notting Hillbillies, the mid-1980s country-rock project of Dire Straits' leader Mark Knopfler. He also recorded solo material and albums with his band The Five O'Clock Shadows. Croker finished his battle with leukemia on September 10th at age 70. This is the Notting Hillbillies from their only album, 1986's Missing… And Presumed Having A Good Time, with the track "Your Own Sweet Way."
The Notting Hillbillies – Your Own Sweet Way
Main Stage:
[10 Sep 2023] Matthew Stewart, 41, American trumpeter (Streetlight Manifesto).
Opening up the Main Stage this week is the American ska band Streetlight Manifesto and their late trumpet player, Matthew Stewart, who died September 10th at the age of 41. The band was formed in 2002 in New Jersey and Stewart joined the group in 2008. Here's a track from 2013 called "The Three of Us."
Streetlight Manifesto – The Three Of Us
[02 Sep 2023] Lefty SM, 31, Mexican rapper, shot.
Our next artist was murdered by two gunshots near his home near Guadalajara, Mexico, on September 2nd. Juan Carlos Sauceda, the million-selling rapper known as Lefty SM, was just 31 years old. Here he is with McKlopedia and Yoss Bones on "Sientelo."
Lefty SM, McKlopedia, Yoss Bones – Sientelo
[12 Sep 2023] MohBad, 27, Nigerian rapper, singer and songwriter.
Normally, our last artist would have been the youngest performer on the Reaper's Rotation this week, if not for another rapper four years his junior also passing away in Lagos, Nigeria. Sadly, 27-year-old Mohbad died on September 12th following complications from treating an ear infection. Here is Mohbad with "Feel Good."
MohBad – Feel Good
Festival Stage:
[11 Sep 2023] Benito Castro, 77, Mexican musician, comedian (Los Hermanos Castro) and actor (Como dice el dicho), fall.
On our Festival Stage we return to Mexico to welcome the son of a famous Mexican actor/comedian and member of Los Hermanos Castro, a musical group formed by his cousins. Benito Castro was age 77 when he died from a fall on September 11th. In addition to his musical performances, Castro was a well known television comedian and movie actor. Here he is with Los Hermanos Castro performing "Con Tinta Roja."
Los Hermanos Castro – Con Tinta Roja
[11 Sep 2023] Yvonne Přenosilová [cs], 76, Czech singer.
Now to the Czech Republic where we feature Yvonne Přenosilová, who may have been the Eastern Bloc's first rock & roll singer. She passed away on September 11th at the age of 76. She won a singing contest in her teens, where she was compared favorably to Brenda Lee. Přenosilová took that advice to heart with many covers, including this Czech version of Lee's "My Boy Lollipop."
Yvonne Přenosilová – Mně Se Líbí Bob
[12 Sep 2023] Beytocan, 67, Turkish-born Swedish Kurdish singer and musician, cancer.
Closing the Festival Stage we have Beytullah Güneri, stage name Beytocan, a Swedish Kurd who was born in Turkey and imprisoned there in the 1980s. Despite Kurdish music being banned in Turkey, following his release from prison in 1987, he continued to produce popular records that were distributed secretly among Kurdish militants. He moved to Sweden in the 1990s, and Beytocan met his maker on September 12th at the age of 67. Here he is performing "Agir Ketiye Dile Min."
Beytocan – Agir Ketiye Dile Min
International Stage:
[06 Sep 2024] Malini Rajurkar, 82, Indian classical singer.
Our first guest on the International Stage started off as a math teacher. Malini Rajukar then used proceeds of that scholarship to study music. There she met the nephew of her music professor, Vasantrao, who would then become her husband. She performed at numerous festivals throughout India and is considered one her genre's top singers. Here she is with "Pandu Nrupati Janak Jaya."
Malini Rajukar – Pandu Nrupati Janak Jaya
[03 Sep 2023] José Sébéloué, 74, French singer and musician (La Compagnie Créole).
Our next international artist joins us from French Guiana. José Sébéloué was a founding member of La Compagnie Créole, a French pop band that has recorded over 23 albums and sold over 60 million records since 1975. Sébéloué died on September 3rd at the age of 74. This is "Ça fait rire les oiseaux," or, "It Makes The Birds Laugh."
La Compagnie Créole – Ça fait rire les oiseaux
[27 Aug 2023] Eddie Skoller [da], 79, American-born Danish singer and actor.
We close the International Stage in Denmark, where we feature American-born Eddie Skoller, a singer who joined the choir invisible on August 27th at the age of 79. Skoller was born of a Swedish mother and Russian father. He began his musical career in 1968, foregoing his education and training in economics for what turned out to be 30 year music career and appearances in five films. Here is Eddie Skoller with "Pruttesangen," which translates to "The Fart Song."
Eddie Skoller – Pruttesangen
Jazz Cellar:
[07 Sep 2023] Charles Gayle, 84, American jazz saxophonist and pianist.
Opening the Jazz Cellar this week we have a man who spent two decades homeless in New York City, busking with his saxophone for as little as $3 a day. Charles Gayle left for the Pearly Gates on September 7th at the age of 84. In 1988, he was recorded on a little-known Swedish label and suddenly discovered by the greater jazz world. He was deeply religious, basing all his original work on the Bible. He gained his highest acclaim recording with William Parker and Rasheed Ali, heard here on Part E of the album Touchin' on Trane.
William Parker, Charles Gayle, & Rasheed Ali – Touchin' on Trane (Part E)
[26 Aug 2023] Bosse Broberg, 85, Swedish jazz trumpeter and composer.
Closing our Jazz Cellar this week we have Bosse Broberg, a Swedish trumpeter who played his last note on August 26th at the age of 85. Broberg began playing trumpet at age 14 and recorded and performed from the 1960s through the 2000s. Here he is with Viktoria Tolstoy singing lead on "You Go To My Head."
Viktoria Tolstoy – You Go To My Head
Closing:
And that's the Rest in Playlist for Friday, September 15th, 2023. Join us here next week for a tribute to the latest artists to cross over to eternity. Catch up on every year of Rest in Playlist back to 2016 on Spotify and RadicalRuss.com. For Rest in Playlist, I'm "Radical" Russ Belville reminding you to seize the day, it may be your last.