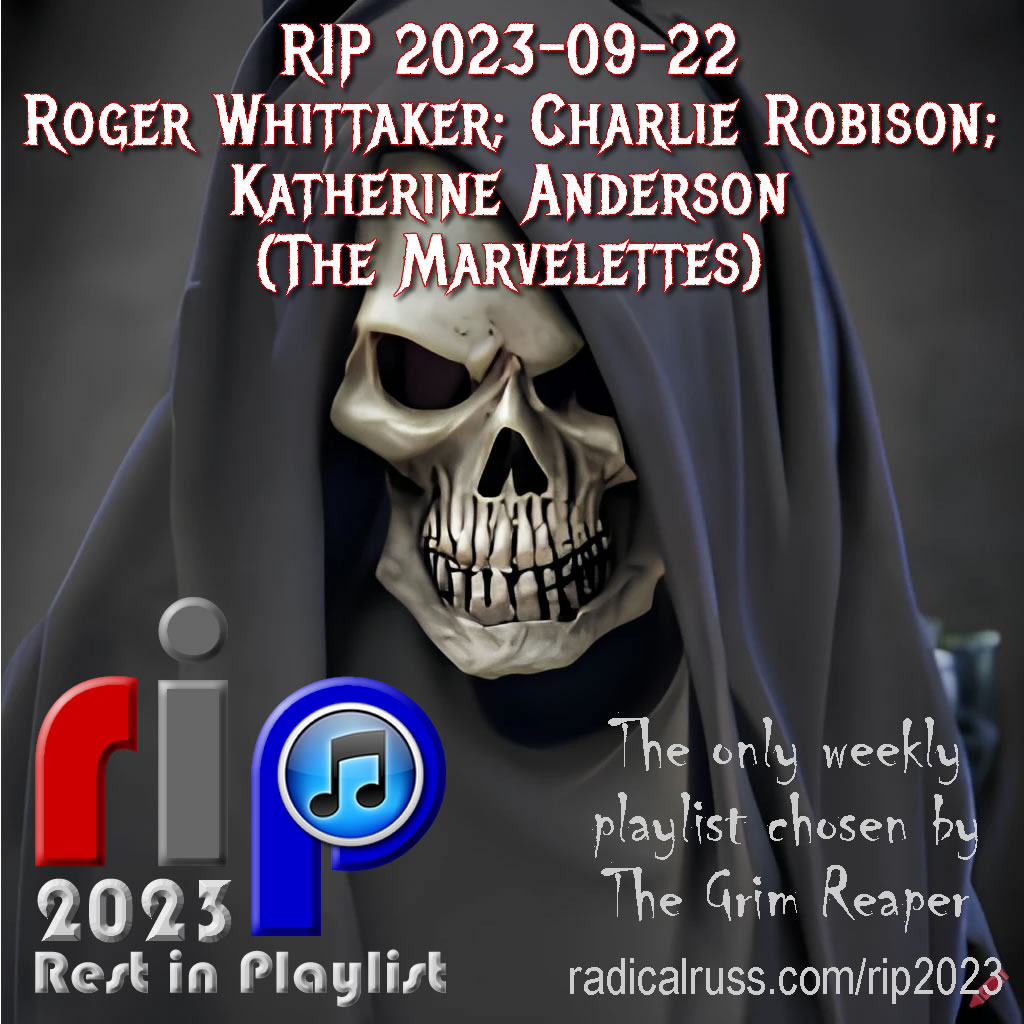 INTRODUCTION
This is the Rest in Playlist for Friday, September 22nd, 2023, featuring recording artists from around the world who passed away recently. This week the Reaper has selected for us classic girl group singers, hardcore American punks, some jazz-fusion funk, and an international lineup from England, Belgium, Croatia, and the Dominican Republic, bookended with mellow country from both sides of the pond. Get ready to expand your musical horizons on this global jam session from the great beyond. Let's kick things off with our Opening Act.
Opening Act:
[10 Sep 2023] Charlie Robison, 59, American singer-songwriter, cardiac arrest.
Our Opening Act this week was a judge on TV's Nashville Star and had music featured in HBO's True Blood. Charlie Robison was just 59 years old when he suffered a fatal heart attack on September 10th. Robison began playing with country bands after a knee injury ended his football career. He went solo in 1996 and his sophomore album, 1998's Life of the Party, scored him this monster hit called "My Hometown."
Charlie Robison – My Hometown
Headliner:
[13 Sep 2023] Roger Whittaker, 87, British singer-songwriter ("Durham Town (The Leavin')", "I Don't Believe in If Anymore", "The Last Farewell").
Our Headliner is best-known to American audiences for his mellow baritone rendition of "Wind Beneath My Wings," featured on many a TV record advertisement. Roger Whittaker died on September 13th and was born in 1936 in Nairobi, Kenya, to English parents and became a huge star recording hits in German. He also wrote many of his best-loved songs, like this track called "Durham Town."
Roger Whittaker – Durham Town
Main Stage:
[20 Sep 2023] Katherine Anderson, 79, American singer (The Marvelettes).
Opening the Main Stage, we have a member of the first Motown girl group to ever hit #1, and no, it's not The Supremes. Katherine Anderson, who passed away at age 79 on September 20th, was one of five suburban Detroit high school girls who formed The Marvels. They auditioned for Smokey Robinson and Berry Gordy, who changed their name to The Marvelettes, and they took "Please Mr. Postman" all the way to the top in December 1961.
The Marvelettes – Please Mr. Postman
[15 Sep 2023] Prudence McIntyre, 78, American singer (Patience and Prudence).
Next up, we have Prudence McIntyre, one half of the sister act Patience & Prudence, who joined the angels on September 15th at age 78. At just 11 years old, Prudence and her 14-year-old sister Patience recorded a demo of a 1927 hit by Gene Austin. Liberty Records signed them immediately, released the track, and it shot up to #4 in September 1956. I remember it best as the song Bernadette Peters sings with Steve Martin in his movie The Jerk. This is "You Belong To Me."
Patience and Prudence – Tonight You Belong To Me
[17 Sep 2023] Lies Adji Rachman, 78, Indonesian musician (Dara Puspita), complications from diabetes.
The girl group phenomenon of the 1960s was global. Over in Indonesia, an all-female garage rock band formed in 1964 called Dara Puspita, which included our next musician, guitarist Lies Adji Rachman. She passed away from diabetes complications on September 17th at age 78. Facing a government crackdown on rock music in 1965, the band left Indonesia for Thailand, and later tours of Europe throughout the late 1960s. Here is Dara Puspita with one of their English tracks, "Believe Me."
Dara Puspita – Believe Me
Festival Stage:
[14 Sep 2023] Fred Lewis, 72, American percussionist (Lakeside).
We take you now to the hood of funk as Fred Lewis hits the Festival Stage. Lewis joined the jam eternal on September 14th at the age of 72. He was the percussionist for a band then called Ohio Lakeside Express that built a following through the 1970s, appearing on Soul Train in 1977, and then scoring this all-time massive #1 R&B hit from 1980. Younger listeners, take note: this is the old school "Fantastic Voyage" from the band Lakeside.
Lakeside – Fantastic Voyage
[16 Sep 2023] John Marshall, 82, English drummer (Nucleus, Soft Machine, Centipede).
While our last act was building the foundation of funk in America, across the Atlantic, a British band called Nucleus was spending the 1970s fusing funk with jazz. Drummer John Marshall, who died September 16th at age 82, co-founded the band with trumpeter Ian Carr. This is Nucleus from 1975 with "Phaideaux Corner."
Nucleus – Phaideaux Corner
[16 Sep 2023] Irish Grinstead, 43, American R&B singer (702).
Our youngest performer in the Reaper's Rotation this week left us at age 43 on September 16th, and she takes full circle back to the girl group. Irish Grinstead and her two sisters were discovered by the comedian Sinbad in the early 1990s when they were singing in the lobby of Caesars Palace. Fast forward to 1999 and they had hit #4 on the charts as the girl group 702 with this Missy Elliott written-and-produced gold single called "Where My Girls At?"
702 – Where My Girls At
International Stage:
[19 Sep 2023] Lou Deprijck, 77, Belgian singer-songwriter ("Ça plane pour moi"), musician (Two Man Sound) and record producer.
On the International Stage we welcome one of Belgium's best-selling artists. Lou Deprijck, who passed on September 19th at age 77, was a member of the group Two Man Sound, known for its fusion of Latin and disco music. They found their greatest success with this title track from the album Disco Samba, which went on to sell more than 1.4 million copies in Latin America.
Two Man Sound – Disco Samba Megamix
[17 Sep 2023] Aníbal de Peña, 90, Dominican singer, pianist and composer.
Our oldest artist this week is a Dominican singer who left us on September 17th at the age of 90. Aníbal de Peña was also a talented composer, whose works included this song, "Enriquillo," which he performed at the Dominican Song Festival. It is a symphonic poem that sings the praises of the native Taino chief who resisted the occupation of Sierra de Bahoruco by Spanish colonizers in 1519.
Aníbal de Peña – Enriquillo
[16 Sep 2023] Milo Hrnić, 73, Croatian pop singer, infection.
Closing the International Stage, we have Milo Hrnić, one of the top pop singers from Croatia, who joined the choir invisible on September 16th at age 73. He was a three-time winner of the Split Festival and also a member of his hometown of Dubrovnik's city council. Here he is with "Kome Bi Šumilo More Moje Sinje," which translates to "To whom the Sea of My Blues would roar."
Milo Hrnić – Kome Bi Šumilo More Moje Sinje
Mosh Pit:
[26 Aug 2023] John Kezdy, 64, American punk singer (The Effigies) and attorney, traffic collision.
Get ready for a triple-shot of American punk in this week's Mosh Pit. We start with John Kezdy, who was the singer for the Chicago punk band The Effigies. Kezdy, age 64, was killed in a crash while riding his bicycle on August 26th. The band performed from the 80s through the 2000s with various lineups, but always with Kezdy as lead singer. Here they are with a track the Reaper's really fond of called "Body Bag."
The Effigies – Body Bag
[01 Sep 2023] Robert Becerra, 64, American guitarist (The Stains).
Next, we head to East L.A. and a punk group called The Stains that was formed in 1976. Robert Becerra played guitar for the group, whose music is often considered the earliest bridge from hardcore punk to heavy metal. He died on September 1st, also at the age of 64. Here are The Stains with "Sick and Crazy."
The Stains – Sick and Crazy
[20 Sep 2023] Kent Stax, 61, American drummer (Scream), cancer.
We complete our U.S. tour of American punk acts with Washington, D.C.'s Scream, which formed in 1981. Kent Stax played drums for the band since its founding and during its 2010's revival, only replaced for four years in 1986 by some unknown 17-year-old kid named Dave Grohl, who covered the gig until he moved to Seattle and joined some band called Nirvana. Anyway, here's Stax on the kit for the 1982 Scream track, "Came Without Warning."
Scream – Came Without Warning
Closing:
And that's the Rest in Playlist for Friday, September 22nd, 2023. Join us here next week for a tribute to the latest artists to cross over to eternity. Catch up on every year of Rest in Playlist back to 2016 on Spotify and RadicalRuss.com. For Rest in Playlist, I'm "Radical" Russ Belville reminding you to seize the day, it may be your last.