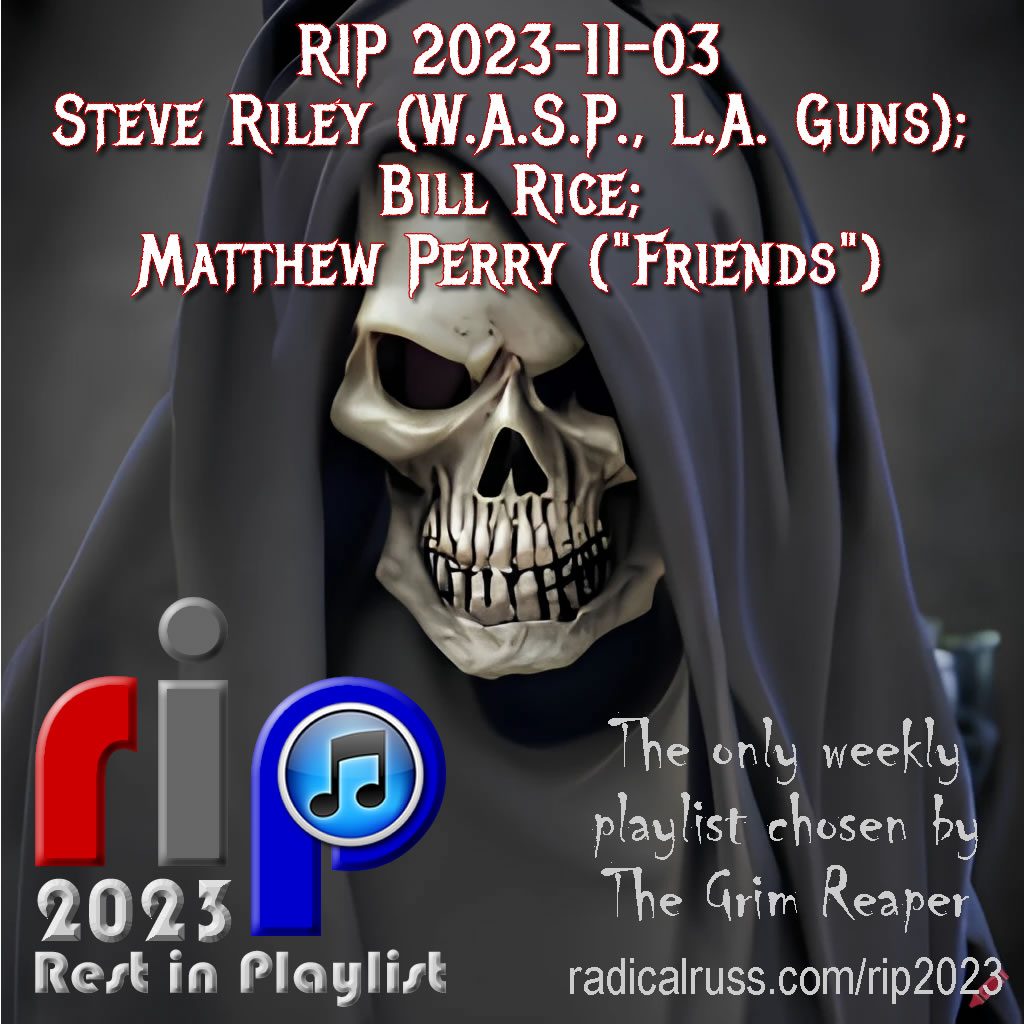 INTRODUCTION
This is the Rest in Playlist for Friday, November 3rd, 2023, featuring recording artists from around the world who passed away recently. The Grim Reaper keeps hacking away at my Gen-X TV memories, taking from us Chandler and Bull. On the musical side, we've got two American drummers from the worlds of funk and metal, an American country music songwriting legend, and one of America's top trance DJs. We've also got musicians and singers from Hungary, India, Italy, Russia, Israel, and The Congo. We've even got the composer of an African national anthem onstage this week. Get ready to expand your musical horizons on this global jam session from the great beyond. Let's kick things off with our Opening Act.
Opening Act:
[30 Oct 2023] Aaron Spears, 47, American drummer (Lil Wayne, Carrie Underwood, Chaka Khan).
Kicking things off this week we have our youngest performer, session drummer Aaron Spears, who left us on October 30th at just 47 years old. His credits include performing with Lil Wayne, Carrie Underwood, Usher, and Ariana Grande. Here he is backing up the incomparable Chaka Khan in 2007, performing alongside Michael McDonald on a tune he wrote with Carly Simon called "You Belong To Me."
Chaka Khan – You Belong To Me (Feat. Michael McDonald)
Headliner:
[24 Oct 2023] Steve Riley, 67, American drummer (Keel, W.A.S.P., L.A. Guns), pneumonia.
We turn to the West Coast glam metal scene for our headliner, drummer Steve Riley, most recently of the band L.A. Guns, who we lost to pneumonia on October 24th. He was 67 years old. Riley joined L.A. Guns in 1987 and continued in various iterations of the band until his death, aside from the period between 1992 to 1995. Here is L.A. Guns with "The Ballad of Jayne."
L.A. Guns – The Ballad Of Jayne
Main Stage:
[26 Oct 2023] Goa Gil, 72, American musician, DJ, and remixer.
On our Main Stage we welcome Gilbert Levey, who became known as Goa Gil, one of the founders of the electronic trance music movement of the early 1980s. He combined his experiences of the hippie movement of San Rafael, California, and the sadhu holy men of India he met on his sabbaticals to the subcontinent. Goa Gil felt that trance music is a way to "redefine the ancient tribal ritual for the 21st century." Here's one of his mixes of Asia 2001's "Vertige 2."
Asia 2001 – Vertige 2
[23 Oct 2023] István Láng, 90, Hungarian composer, academic teacher (Franz Liszt Academy of Music) and cultural manager (International Society for Contemporary Music).
We continue a salute to the experimental artists with our oldest male performer this week, 90-year-old István Láng. He was a teacher of chamber music at the Franz Liszt Academy of Music in Budapest but became best known for his electro-acoustic music compositions. Láng met his maker on October 23rd. Here is his 1997 composition, "Lebeges (Floatation)."
István Láng – Lebeges (Floatation)
In The News:
[26 Oct 2023] Richard Moll, 80, American actor (Night Court, House, Batman: The Animated Series).
In the News this week we lost two more actors who brought a lot of laughs to American audiences. First up, we say goodbye to Richard Moll, who died at age 80 on October 26th. Moll's 6'8" frame made him easy to cast as toughs in shows like Happy Days and Mork & Mindy. But Moll found his stardom playing the affable bald bailiff Bull in the 80s sitcom Night Court. Here's that iconic theme song from Jack Elliott.
Jack Elliott – Night Court
[28 Oct 2023] Matthew Perry, 54, American-Canadian actor (Friends, The Whole Nine Yards, Fools Rush In).
More shocking news this week when we learned of the untimely death on October 28th of 54-year-old Friends co-star Matthew Perry, who played Chandler Bing. In addition to his roles on television and films, Perry was well known for his public battles against drug addiction, becoming a champion for others who have suffered his fate. This is The Rembrandts with that Friends theme song, "I'll Be There For You," the last TV theme song to make the pop charts.
Rembrandts – I'll Be There For You
Festival Stage:
[26 Oct 2023] Rigo Star, 68, Congolese soukous guitarist and composer.
When the Reaper first handed me this name for the Festival Stage, I panicked, thinking that now Sir Paul McCartney is the last remaining Beatle. But no, this week we're not welcoming Richard Starkey, aka Ringo Starr, who's still quite alive at age 83. No, this artist is Rigo Star with one 'r', and he was a guitarist and composer from The Congo who died on October 26th at age 68. Born Rigobert Bamundele, he performed with numerous world music acts, including Paul Simon's "The Rhythm of the Saints" album. Here he is with "Aï Aï Aï."
Rigo Star – Aï Aï Aï
[01 Nov 2023] Leela Omchery, 94, Indian classical singer and musicologist.
We turn now to our oldest female performer this week, India's Leela Omchery, who passed away on November 1st at the age of 94. She was the winner of numerous artistic and cultural awards from the Indian government for her contributions to Indian classical music. Here she is performing "Poli Poli Poliyo."
Poli Poli Poliyo
[01 Nov 2023] Vic Vergeat, 72, Italian guitarist, singer-songwriter and record producer.
Also leaving us on November 1st we have Vic Vergeat, an Italian guitarist who died at age 72. He first found success with a small hit in 1966 in a band called the Black Birds. He continued his career with a few more bands and some solo material, and even recorded with Baywatch's David Hasselhoff. Here he is with a recoding from a tribute to Jimi Hendrix, Vic Vergeat's version of "If 6 Was 9."
Vic Vergeat – If 6 Was 9
Country Bunker:
[28 Oct 2023] Bill Rice, 84, American country music singer and songwriter.
In the Bunker we welcome Bill Rice, a giant of country music songwriting whose first credit was Elvis's 1960 "Girl Next Door Went A-Walkin'." He went on to write for Johnny Paycheck, Reba McEntire, Lynn Anderson, Charley Pride, Mickey Gilley, Hank Williams Jr., and Jerry Lee Lewis. He is the most-awarded songwriter by the publishing group ASCAP and in 1974 had eleven songs on the country charts at once. Here is one of his performing efforts that was covered by Moe Bandy, this is "Man of Means."
Bill Rice – Man of Means
[27 Oct 2023] Axali Doëseb, 69, Namibian composer ("Namibia, Land of the Brave"), complications from diabetes.
The Reaper's gotten a little bit cute with the genre on this one. We welcome Axali Doëseb to the Country Bunker. He passed away on October 27th at the age of 69, and he was a composer who wrote the national anthem for the African country of Namibia. Technically speaking, the Reaper tells me, the music of a country is country music. I think that's a bit of a stretch, but he's got a scythe, so here is the Slovak Radio Symphony Orchestra performing the Namibian national anthem, "Namibia, Land of the Brave."
Slovak Radio Symphony Orchestra – Namibia, Land of the Brave
The Amphitheater:
[29 Oct 2023] Tigran Alikhanov [ru], 80, Russian pianist.
In the Amphitheater this week we have Russian pianist Tigram Alikhanov, who died on October 29th at the age of 80. His performing life began at the Moscow Conservatory as a student, then later as the head of the chamber ensemble and quartet department from 1992 until his death. Here he is performing "Nochka" or "Night" from Six Choruses by Rachmaninoff.
Six Choruses, Op. 15: II. Nochka (Night)
[28 Oct 2023] Doron Sheffer [he], 48, Israeli singer and composer.
Next up we have Israel's Doron Sheffer, who died at just age 48 on October 28th following a chronic illness. Sheffer was a singer and composer who released his first single in 1997. He went on to compose film scores and arrange musical children's shows, in addition to co-writing a children's book. Here he is performing "Just Don't Leave Me Now."
Doron Sheffer – רק אל תעזוב אותי עכשיו
Encore:
[24 Oct 2023] Steve Riley, 67, American drummer (Keel, W.A.S.P., L.A. Guns), pneumonia.
For an encore we bring back our drummers. First up, Steve Riley, who, before he joined L.A. Guns, provided the beat for metal icons W.A.S.P. from 1984 to 1987. This is "Wild Child."
W.A.S.P. – Wild Child
[30 Oct 2023] Aaron Spears, 47, American drummer (Lil Wayne, Carrie Underwood, Chaka Khan).
We close this week with session drummer Aaron Spears and a little treat for myself. While Spears played with quite the lineup of stars like Lil Wayne, Carrie Underwood, and Chaka Khan, as a bass player I just had to include this track from Bootsy Collins called "Bass-Rigged-System," with an all-star lineup of bassists Victor Wooten, Stanley Clarke, and Manou Gallo. Turn the funk up!
Bootsy Collins – Bass-Rigged-System (Feat. Victor Wooten, Stanley Clarke, Manou Gallo, Alissia Benveniste & World-Wide-Funkdrive)
Closing:
And that's the Rest in Playlist for Friday, November 3rd, 2023. Join us here next week for a tribute to the latest artists to cross over to eternity. Catch up on every year of Rest in Playlist back to 2016 on Spotify and RadicalRuss.com. For Rest in Playlist, I'm "Radical" Russ Belville reminding you to seize the day, it may be your last.