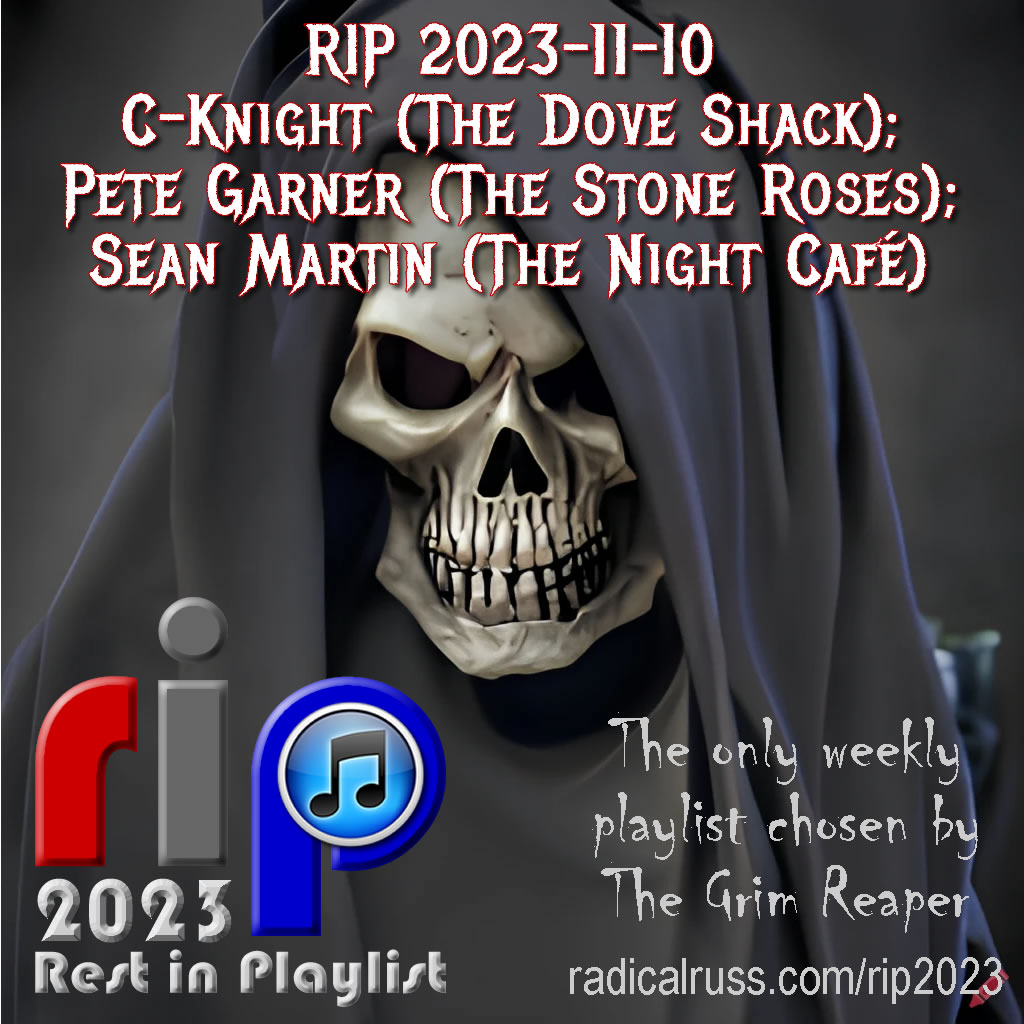 INTRODUCTION
This is the Rest in Playlist for Friday, November 10th, 2023, featuring recording artists from around the world who passed away recently. This week we lost another rapper from the G-Funk era, a young up-and-coming English indie rocker, and an older foundational English indie rocker. We'll also hear from some Japanese rock, Swedish dance, Peruvian bolero, German jazz, and Indian showtunes. I guarantee there's no other radio show like it. Get ready to expand your musical horizons on this global jam session from the great beyond. Let's kick things off with our Opening Act.
Opening Act:
[06 Nov 2023] Sean Martin, 26, English musician (The Night Café).
Opening the show this week is an artist the Reaper chose way too early. Sean Martin was a founding member of The Night Café, a band of four schoolmates from Liverpool, England. That's an origin story that's worked well in the past! They formed while still in school in 2014, then released two EPs in 2017 & 2018, then their debut studio album, 0151, in 2019. Sadly, though, Martin died on November 6th at just 26 years old. Here's is The Night Café with "Endless Lovers."
The Night Café – Endless Lovers
Headliner:
[07 Nov 2023] C-Knight, 52, American rapper (The Dove Shack), complications from a stroke.
It was 1994 when our headliner, who passed on November 7th at age 52, made his debut on Warren G's album, Regulate… G-Funk Era, introducing America to the G-Funk or gangsta-funk subgenre of hip-hop. C-Knight takes the stage, who along with Bo-Roc and 2Scoop made up The Dove Shack. They hit with the 1995 debut This is the Shack singing about their home of Long Beach, California. This is "Summertime in the LBC."
The Dove Shack – Summertime In The LBC
Main Stage:
[03 Nov 2023] Pete Garner, 61, British bassist (The Stone Roses), cancer.
Every so often, the Reaper brings to us a founding member of an incredible band that didn't really become incredible until after that member had left the band. This week's winner of The Pete Best Award is Pete Garner, the original bassist for the seminal English indie band The Stone Roses, who died on November 3rd from cancer at age 61. Garner recorded on the band's first few singles, but was replaced before the band's smash 1989 debut album. This one got to #47 on the UK charts in 1987, The Stone Roses with "Sally Cinnamon."
The Stone Roses – Sally Cinnamon (12" Single Mix)
[07 Nov 2023] Heath, 55, Japanese bassist (X Japan), cancer.
From one island empire to another, we switch to Japan, where Hiroshi Morie, known onstage as Heath, has died at age 55 from cancer on November 7th. Heath was bass player from the Japanese metal band X Japan. He was a huge fan of Motley Crue who began playing in bands since high school. He played with X Japan in the 90s before moving on to a solo career in the 2000s, then rejoining X Japan in 2007. Here they are from the 1996 album Dahlia with "Scars."
X Japan – Scars
[29 Oct 2023] Pelle Hökengren, 61, Swedish musician (Trance Dance) and videographer.
Closing the Main Stage, we have a band called Trance Dance whose music is nothing like trance dance music. But it was the mid-1980s and trance didn't really exist for another couple of years. Trance Dance was formed by our next artist, Sweden's Pelle Hökengren, who played guitar. He passed on October 29th at age 61. Here's a track from their first album in 1986, or 1987 here in the States, called "Hoodoo Wanna Voodoo."
Trance Dance – Hoodoo Wanna Voodoo
Festival Stage:
[06 Nov 2023] Iván Cruz [es], 77, Peruvian bolero singer and composer.
To the west coast of South America we go as Ivan Cruz from Peru opens our Festival Stage. Cruz was known as The Bolero Idol, with a four decade career spanning 200 singles and 12 gold records. He also suffered from drug addiction and was quite the womanizer before turning to evangelical Christianity in his later years. Here he is performing "Dime la Verdad."
Iván Cruz – Dime la Verdad
[05 Nov 2023] Lolita Rodrigues, 94, Brazilian singer and actress (Rainha da Sucata, Despedida de Solteiro, Kubanacan), pneumonia.
Our oldest performer on the Reaper's Rotation this week takes us to the east coast of South America with Brazil's Lolita Rodrigues. She passed away from pneumonia on November 5th at the age of 94. She was best known for her five-decade career as an actress in telenovelas, but she began her career singing on radio and recording albums. Here she is performing "Suadade, Vai-te Embora."
Lolita Rodrigues – Saudade, Vai-te Embora
The Jazz Cellar:
[02 Nov 2023] Michel Pilz, 78, German jazz clarinetist.
A quick trip to visit the Jazz Cellar is in order to welcome Michel Pilz, a German jazz clarinetist who joined the eternal session on November 2nd at age 78. Here he is performing "Ebano" with Kai Kenthak and Klaus Kugel.
Michel Pilz, Kai Kenthak, Klaus Kugel – Ebano
International Stage:
[27 Oct 2023] Swarup Nayak, 76, Indian music director, composer, and actor.
Over on the International Stage, we have Swarup Nayak, an Indian musician and actor who died at age 76 on October 27th. He began his film career at age 15 and became well known as a composer for films in the Odai language in the 1980s. Here he is with a track called "V for Vicky" from a 1994 Ollywood film soundtrack.
Swarup Nayak – V For Vicky
[04 Nov 2023] Akbar Golpayegani [fa], 89, Iranian singer.
Next, we head to Iran, where singer Akbar Golpayegani, stage name Golpa, has died on November 4th at age 89, our oldest man in the rotation this week. Golpa had been singing since being discovered at age 6 reading the Quran at school. He went on to make over 300 recordings, though his work was severely limited once the Iranian theocracy took hold in 1979. This is Golpa with "Shekasteh."
Akbar Golpayegani – Shekasteh
The Amphitheater:
[05 Nov 2023] Ryland Davies, 80, Welsh operatic tenor and voice teacher (Royal College of Music), mesothelioma.
Let's wind things up with a trip to the Amphitheater. This week we welcome Ryland Davies, a Welsh operatic tenor who also taught voice at the Royal College of Music. He was well known for his performances of Mozart's works. He passed away on November 5th at the age of 80 from mesothelioma. Here he is performing alongside the great Luciano Pavorotti from the opera Lucia di Lammermore.
Luciano Pavarotti, Ryland Davies – Lucia di Lammermore Act 2 Chi mi frena in tal momento
Encore:
[06 Nov 2023] Sean Martin, 26, English musician (The Night Café).
We welcome young Sean Martin back to the stage with The Night Café. The band had just released their debut album in 2019 when the pandemic hit and scuttled everybody's plans. There was much promise for the band's future, but Martin in 2022 revealed he was having health problems that forced them to drop out of a scheduled tour with The Wombats. Here's another track from 0151 called"Mixed Signals."
The Night Café – Mixed Signals
[07 Nov 2023] C-Knight, 52, American rapper (The Dove Shack), complications from a stroke.
Closing the show we bring back C-Knight, the rapper from The Dove Shack who suffered a stroke at the age of 52. Following the 90s success of the group, C-Knight released a solo album in 2001, while 2Scoop and Bo-Roc waited until 2010 for their solo releases. Here's the Dove Shack with "We Funk (The G Funk)."
The Dove Shack – We Funk (The G Funk)
Closing:
And that's the Rest in Playlist for Friday, November 10th, 2023. Join us here next week for a tribute to the latest artists to cross over to eternity. Catch up on every year of Rest in Playlist back to 2016 on Spotify and RadicalRuss.com. For Rest in Playlist, I'm "Radical" Russ Belville reminding you to seize the day, it may be your last.