Freedom Fighter of the Month
October 2011 – David Sloane
Public Information Officer, Dallas/Ft. Worth NORML, Texas
By Russ Belville, NORML Outreach Coordinator
NORML Chapters across the country are always looking for creative ways to bring the message of ending marijuana prohibition to the masses. This month's Freedom Fighter is using one of the symbols of our oppression to make a point about freedom.
David Sloane, Esq., is the public information officer for our Dallas / Fort Worth chapter of NORML in Texas. With help from supporters, he acquired an old police cruiser and re-branded it as "The Truth Enforcement" car for DFW NORML.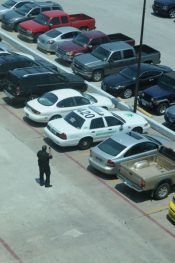 The cruiser is Car #420, of course, with the DFW NORML logo and the NORML name along the sides, a big cannabs leaf on the hood, and in place of the "To protect and serve" motto reads "Legislate, Educate, and Medicate". In order to remain street legal, David replaced the red-and-blues in the light bar with greens.
NORML Founder Keith Stroup warned David he needed to be extra careful never to allow any contraband in the car, as it would be sure to attract the scrutiny of police. Sure enough, David reports, "Keith Stroup's crystal ball seems to be in fine working order. I just got stopped in 420 TRUTH CAR. I was driving under the speed limit and a traffic unit started kicking up dirt and gravel coming onto the freeway before I even passed him, indicating to me they've been watching for that car. He asked me to 'turn the light bar on.' What the hey, the GREEN lights are legal. He just kind shook his head and chuckled. Then he asked if he could get some pictures!"
David isn't finished with the reefer roadsters. "I've got my eye on this old ambulance," he tells us, "that I plan to remake as the Medical Marijuana Truth Car." So keep your eyes open if you're driving around Dallas!