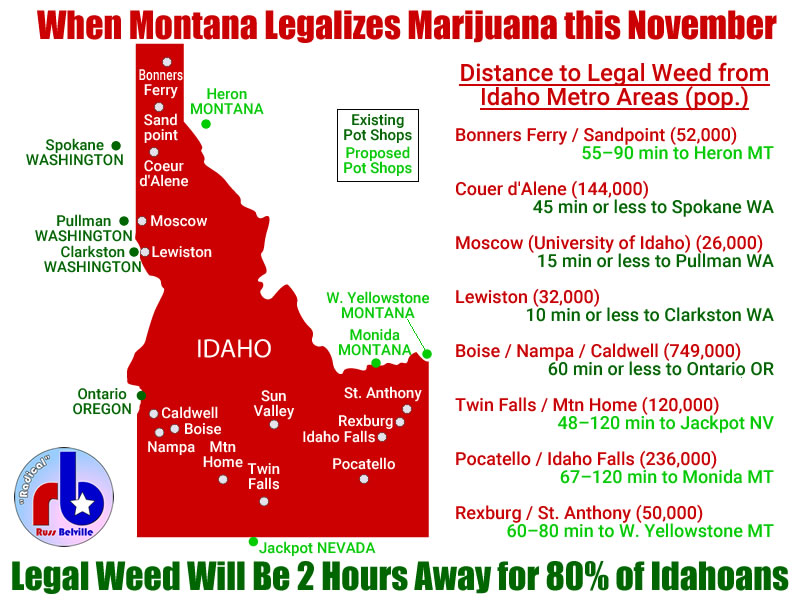 With the passage of marijuana legalization in the state of Montana last night, eighty percent of the population of Idaho — America's last absolute marijuana prohibition state — will now live within a two-hour drive of legal marijuana.
Pot shops in Spokane, Washington, have enjoyed the tax revenue they've received from Panhandle Idahoans crossing the border for legal weed. Soon, they'll be able to drive east or west for herb, if the border town of Heron, Montana, establishes a shop.
The college students at the University of Idaho in Moscow and adults in the port city of Lewiston in North Idaho have been taking their tax dollars to Pullman and Clarkston, Washington, respectively, for years now.
With the overturning of the city's ban on marijuana shops last year (an initiative drafted through a generous donation from one of the companies of which I'm a part-owner), Ontario, Oregon, has been reaping tax money from Idahoans from the 750,000-population Boise Metropolitan Area to the tune of over $3,000 per day.
Recently, the struggling border casino town of Jackpot, Nevada, decided to allow for establishment of a marijuana shop. That will put legal marijuana within easy reach of Idahoans in the Twin Falls region who wish to spend their money funding taxes in Nevada.
While Wyoming and Utah haven't legalized marijuana (yet), Idaho's bordered on the southeast by medical marijuana and to the east by legal CBD hemp oil. With Montana's legalization, the Pocatello/Idaho Falls Metro Area will soon be able to contribute to Montana's tax revenues in border towns like West Yellowstone and Monida.
Idaho Treats Hemp Just Like Marijuana
Remember, this isn't just Idaho rejecting legal marijuana for all adults or even medical use for sick people. Idaho still criminalizes industrial hemp, going so far as to claim a seized truckload of hemp was the state's "largest pot bust in agency history."
In 2013, the Idaho Legislature passed a resolution to express its opposition "to efforts to legalize marijuana for any purpose in the state of Idaho" because "drug legalization efforts have led to social, economic, and legal chaos."
In 2015, the wave of conservative southern and midwestern states passing low-THC CBD oil laws to help patients with seizures convinced that same legislature to pass a similar law, only to be vetoed by then-Governor Butch Otter, citing the worry it would "decrease public safety."
Epileptic kids using a non-psychoactive CBD oil for relief would "decrease public safety?" Meanwhile, in Idaho, it is perfectly legal to ride your motorcycle without a helmet on the freeway at 80mph on the way back from buying fireworks you're not allowed to shoot in the state while open-carrying an AR-15 locked-and-loaded with a 100-round magazine on your way to walk around inside the State Capitol!
The Idaho Senate passed a hemp bill this year with bipartisan support, and it's languished in the House since March. The bill doesn't remove hemp from Idaho's Controlled Substances Act, or legalize low-THC CBD oil for medical use, even though the federal government did just that with the passage of the 2018 Farm Bill.
Meanwhile, the only two other states that still maintained hemp prohibition in the aftermath of federal hemp legalization, Mississippi and South Dakota, just passed medical marijuana laws, and South Dakota legalized marijuana for all adults.
This means Idaho is not just the last state in America to still treat possession of hemp as a crime worthy of arrest, fines, and imprisonment — Idaho is the last jurisdiction in North America to maintain absolute prohibition, since Canada has legalized and Mexico allows hemp and CBD oil and has decriminalized personal marijuana possession.