Data from the Oregon Liquor Control Commission show that the legal marijuana shops in the tiny Oregon/Idaho border town of Ontario have topped over $103 million in sales in just over sixteen months of operation.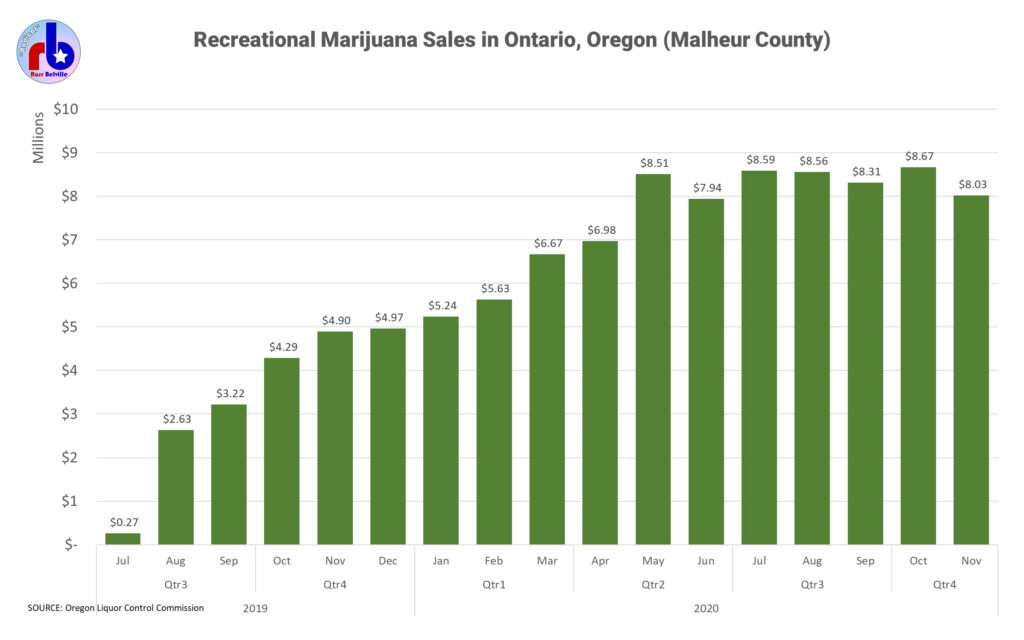 According to the records for Malheur County, sales of marijuana have been at about $8 million a month or greater for the past seven months, as over a half-dozen marijuana shops have opened since July 2019.
Malheur County still maintains a ban on marijuana businesses. That's the status quo for most of Eastern Oregon, set in 2015 when state legislators allowed counties that rejected the 2014 marijuana legalization initiative by greater than 55 percent to automatically ban marijuana licensees such as dispensaries and grow sites.
Ontario is the only city in Malheur County that allows marijuana sales, having voted by initiative to overturn its ban in 2018 by a 56.8 percent vote. With the local 3 percent marijuana tax in effect, this town of about 17,000 people raised about $3.1 million in revenue from legal marijuana.
On a per-capita basis, that makes Malheur County, population roughly 30,000, by far the state leader in sales. In November, Ontario's pot shops sold $23 worth of marijuana per person in November 2020.
Of course, they're not just selling marijuana to Malheur County residents.
Ontario Sells Idahoans Weed, Idahoans Pay Ontario Taxes
Ontario is just across the Snake River border with Idaho, and just a one-hour-or-less drive away from the 750,000 people living in the Boise Metro Area. The parking lots of Ontario's weed shops, just off the two westbound Interstate 84 freeway exits, are teeming with cars bearing Idaho license plates.
The eastbound lanes of that freeway, meanwhile, are crawling with Idaho State Patrol cars catching the unlucky few committing the crime of bringing their purchases back into the Gem State.
What a colossal waste.
The shops doing business in Ontario are now averaging over the past seven months about $8 million per month in marijuana sales. Idaho has a 6 percent state sales tax. Assuming the vast majority of Ontario's sales come from Idaho customers, we're talking about $480,000 per month in sales taxes alone, not to mention whatever additional cannabis excise taxes the state would implement.
But, of course, statewide legalization in Idaho would produce much more than $8 million in monthly sales. While it's not an entirely accurate comparison because of the greater population in the Spokane Metro Area, the three Washington counties that border Northern Idaho average about $12 million in monthly sales. And it is too early to gauge any sales from legalized marijuana in Nevada for the Twin Falls Metro Area and Montana for the Pocatello/Idaho Falls Metro Area.
Still, I don't think it would be absurd to guess legal marijuana in Idaho could generate $12 million per month in sales, equaling about $8.6 million in annual sales taxes alone.
Ontario Sends Tokers to Idaho, Idaho Sends Workers to Ontario
That cross-border marijuana traffic sends more than just Idaho's money to Oregon. Those new pot shops have generated not just permanent jobs for the workers in those facilities, but also construction jobs in building the new facilities.
The Idahoans buying marijuana in Oregon keep bringing it back to Idaho. Whatever problem that may or may not cause, Idaho brings in no tax revenue to deal with it and spends more tax money futilely trying to stop it.
It's not as if Ontario's population is pro-marijuana. The county voted 68.7 percent against Measure 91 in 2014 to legalize marijuana, the highest opposition of any county in Oregon. The city leaders opposed overturning the ban, forcing citizens to do so by initiative.
But once marijuana is legalized, it is going to be bought and sold. Ontario in Malheur County watched as even tinier Huntington in neighboring Baker County became one of the first Eastern Oregon towns to vote to overturn its default pot shop ban in February 2016.
Idaho Marijuana Sales Saved Ontario, Oregon
From the moment the first of three pot shops opened in Huntington, Ontario watched as drivers from Idaho bypassed its two freeway exits to travel another 30 miles eastbound for their marijuana purchases.
The city of Ontario was struggling to fill holes in its budget. By 2017, the mayor and city leaders were touting a 1 percent municipal sales tax that would have made Ontario the only place in Oregon with a sales tax.
"We ended up having to close our golf course, our swimming pool, we have reduced our police force, we no longer have a gang officer, we no longer have any detectives on our police force," the mayor told KTVB News back then.
But even the threats to public safety weren't enough to convince Mayor Ron Verini that pot shops should be legal. "There were hundreds and hundreds of people coming to our city council saying, 'no, we do not want a medical marijuana or recreational marijuana in our community,'" he said.
And yet, Ontario residents were so opposed to the idea of sales tax they petitioned to reject it and placed that on the May 2018 primary ballot, where they rejected the tax by a two-to-one margin.
Just five months later, "hundreds and hundreds" of the city's voters overturned the pot shop ban.